Eyjafjallajokull: the name of the volcano that brought the world's air travel to a standstill. It could also, just as easily, double as a descriptor of the frustration and desperation felt by those travelers stranded as a result of the airport closures across Europe and cascading chaos around the globe.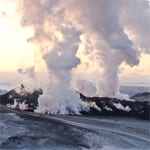 For David Padman, general manager of Travelscene Corporate, Australia's largest group of premium independent travel management companies, however, the resulting chaos was a real opportunity.
"The Chinese symbol for crisis consists of two symbols, "wei", which means danger, and "ji" which means opportunity or crucial point," he says. "Despite the 24/7 stress of dealing with stranded clients, this has been a compelling opportunity for our members to showcase the value of dealing with a travel management company, and to reinforce the fact that without a travel agent, you really are on your own."
In times of crisis, expert knowledge and excellent relationships are key. One of Australia's leading travel agencies is multi-award winning Spencer Travel, a member of the Travelscene group. General manager Tina Killeen says the group's and the agency's strong relationships with all the major airlines was fundamental to Spencer Travel's ability to swiftly respond to its corporate and leisure clients impacted by the travel chaos.
"As one of Qantas' top agents, our clients had first option on seats each day. That meant, for example, we were able to get all of our clients on the very first flight out of Singapore to London. Qantas, in fact, was fantastic in terms of working with us to make sure our clients knew what was going on and in getting our clients to their destinations as quickly as possible."
She adds: "Qantas and the other major airlines were providing us with daily, and sometimes hourly, updates so that we knew exactly what was going on and what we needed to do to get our clients to their destinations as quickly and as comfortably as possible.
"We also had a lot of families, many with young kids, stranded in Singapore and Dubai, who were getting local advice that accommodation simply didn't exist yet. Because we were in constant contact with them all, and because of our strong relationships with the major hotel chains through our membership of Travelscene Corporate and direct relationships, we were able to find them accommodation and flights. Dealing with a travel agent has many advantages but, in a crisis like this, it definitely pays off."
Like Spencer Travel, travel agents around the country received plaudits from their customers for their assistance and expertise during the massive disruptions. It's been a tough couple of years from the Australian travel sector. First, there was the economic downturn, then the slump in the dollar, swine flu, the global financial crisis, and then Eyjafjallajokull topped off the financial year with a resounding bang.
But, with the dollar strengthening, international travel appears to be once more on the rise – for both work and play. Certainly if luxury goods are any indication, the doom and gloom and financial constraints of the GFC are now little more than a distant echo.
[Next: Luxury goods as an indicator for travel]
Luxury carmaker, Porsche, is booking stronger than expected orders for its new Cayenne sports utility vehicle despite its $75,000 price tag. LVMH, the world's biggest luxury goods group by sales, said sales of its Dom Pérignon champagne and premium Hennessy XO cognac in the first three months of the year had been "much better" than last year. In fact, LVMH has reported a 13 percent rise in comparable first-quarter sales, double market expectations. And the annual Bain & Co report on global luxury retail trends, says the positive trends on show at Porsche and LVMH are represented right across the sector.
Yet at the very heart of this resurgence is a key difference: enduring value for money and expertise remain the prime determinants. Research just released by Travelscene Corporate reflects similar trends within the Australian market. The annual Travelscene Corporate Travel Pulse, conducted in association with ACA Research, showed that, in line with the general economy, spend on corporate travel was once again trending upwards.
"More than half of those businesses surveyed will increase their travel spend this year with an additional 29 percent maintaining their 2009 expenditure levels," Padman says. "Yet while the number of business trips, hotel bed nights and spend per airline ticket will all increase, what our research shows loud and clear Australia's small business owners rate more than anything else is value for money and expert advice that delivers savings."
The GFC, according to Padman, has further focused the minds of Australian business owners on the benefits of using a travel management company. "Perhaps not surprising, given the forced navelgazing of 2009 and the reining in of expenditure, the most highly rated benefits of using a travel management company for Australian businesses are the ability to access the best available prices, the availability of detailed reporting and tracking, the enhanced productivity of getting your travel right, and the value-add of expertise in delivering the right travel arrangements."
Given that, on average, 10 percent of a company's travel spend is wasted on unused tickets, taking the decision to ensure that you're spending your travel spend smartly is the perfect resolution for the start of the 2010/11 financial year.
"On top of the financial seepage of unused tickets, it's not uncommon for travel coordinators to spend up to an hour a day on a simple point-to-point domestic booking which would have taken an experienced travel manager just five minutes," Padman says. "If you make just one financial resolution this year, take the time to put in place a travel policy as there are significant savings to be achieved and they can be achieved quite easily with the right policy.
"Regular use of reporting tools such as unused ticket reports, to capture those bookings which would otherwise slip through the system and remain unused, is an incredibly easy way to make sure your travel spend is working the way it should.
"Work with your travel management company to develop a travel policy which is aligned with your business needs and culture. Some companies, for example, are able to reap the rewards of booking non-flexible air fares on a regular basis, saving up to 40 percent off a normal ticket. For other companies, though, the realities of day-to-day business and the need for maximum flexibility in travel arrangements mean that non-flexible air fares become an expense rather than a saving."
Plus, as he points out, the golden rule when it comes to travel is not to be pennywise and pound-foolish. "It might seem initially indulgent but there is actually quite a deal of logic in flying business class for long haul flights," Padman says. "By the time you factor in the advantages of being able to work during the flight, being able to sleep, and the productivity benefits of being able to hit the ground running, it simply makes sense."
–Lyla-Jane Lopez is director, Travelscene Corporate, Australia's largest group of premium independent corporate travel management specialists.