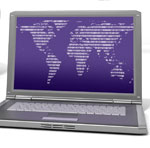 Having a website today is an essential part of doing business. If you haven't already, it's time to make your presence felt online.
A website doesn't have to be expensive, time consuming or high-maintenance. In fact, it shouldn't be any of those things. It's the part of your operation that ties everything together – the foundation. Your website should be on your business cards and letterheads, in your email signature, your ads, on your shop window – everywhere. It immediately makes your business open 24/7, and puts your products and services into the homes and offices of your potential customers.
Most importantly, a website helps to generate new business through that priceless marketing tool known as 'word of mouth'. It's easy for people to refer other customers if they know you have a website. Ever heard 'Just Google Paul's Plumbing Ryde' or 'Check out paulsplumbing.com.au'? Yep, that's the way it's done these days.
It should be simple, professional and load quickly – which means it should be hosted in Australia, not overseas. It needs to contain the basic info your customers require to contact you promptly – that means four to six pages, typically containing an 'About' section, products, services, contact details, plus any other information you think would be helpful. Short and simple is best – just the facts ma'am.
The reality is this: If you don't have a website, you're losing business. If you have an old shoddy one, you're losing business. If you are using a third party email service for your business – like a hotmail or bigpond account – you are deterring people from doing business with you. Would you do business with someone using a dodo account? Don't think so.
Of course, the major benefit is that you can promote your business online in different forums and directories – wherever you think your customers could be. The good news is that most of these are free.
There's not much of 2009 left – it's time to get online.
– Tom Kendall is the founder of The Forge http://forg3.com
People who read this, also liked:
How to make the most of your business website
10 tips for online business success
How to entice your online customers