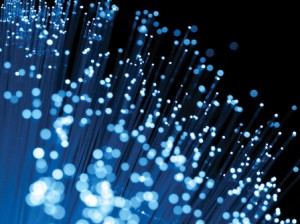 The Rudd Government's commitment to build a high speed National Broadband Network has become a hot talking point in recent months, with plans to revolutionise Australia's digital infrastructure. Brad Howarth explores the benefits and what it will mean for business.
Whether the Rudd Government's commitment of $4.7 billion to building a high speed National Broadband Network (NBN) was much of a vote catcher is hard to say, but it set the scene for a pitched battle between the two groups wanting to build it: Telstra and a consortium of seven telecommunications companies called Terria, whose members include Optus, Macquarie Telecom,  iiNet and Internode.
The goal is to build a network that will provide download speeds of 12 Megabits-per-second or greater to a minimum of 98 percent of Australian homes, at a total cost estimated between $10 billion and $15 billion. It will be Australia's largest single infrastructure investment.
In some parts of the world the deployment of high-speed broadband services has been carried out as the result of a Government directive for greater speed (such as in Korea). In many others they have been built on a commercial basis, usually involving the delivery of internet-based television services (known as IPTV). No such proposals have been outlined for the NBN in Australia, which will be regulated to provide open access to all service providers.
What are the benefits?
But the questions that remain unanswered are exactly what it will be used for, and where will the benefit be for business? According to the veteran telecommunications analyst Paul Budde, the answers require an element of vision.
"Why build roads and bridges?" Budde asks. "Over the centuries infrastructure has proven to be very important for economic growth. And you do need some leadership, and a vision, to understand how to move forward. Rather than trying to think what people are going to do, give them the tools and let them experiment themselves. That is basically how the whole internet got started."
Budde points out that with manufacturing disappearing from the Australian economic landscape, it is up to knowledge-based industries to provide much of the nation's growth. "And the infrastructure for a knowledge-based society clearly is broadband."
Australia lagging behind
According to figures released by the OECD, in December 2007 Australia ranked 16th in terms of the number of broadband subscribers per 100 inhabitants, with 4.83 million households connected. While this figure is frequently used to paint a picture of Australia being a laggard in terms of broadband adoption, there is also no conclusive evidence of a direct link between broadband uptake and the economic performance of a nation.
However, Budde does point to a link between broadband usage and technology leadership generally, with high-tech countries such as Sweden, Finland and Korea all ranking higher in broadband usage than Australia. "What we see is typically that the countries that are moving first are the countries that are becoming the technology leaders," Budde says.
The chairman of the Terria consortium, former NSW Treasurer Michael Egan, likens the NBN to the rollout of the electricity network in the last century, and points to the resulting economic benefit to those countries where the public sector became involved in connecting up every home and business.
"Most small businesses do not want to stay small, and even if they do, they are going to have to have access to the world's best technology," Egan says. "And nobody knows what that means in five, ten or 15 years time. I couldn't have conceived the services that we have now 15 or 20 years ago."
Leveling the playing field
The new network will also level the playing field for businesses that are currently badly serviced, not just in regional areas, but in the so-called black spots in metropolitan areas that cannot receive high-speed connections.
"There are businesses that you simply cannot establish in a country town, because you need modern telecommunications and access to broadband, and it is just prohibitively expensive. So it is holding back a lot regions."
According to the e-commerce strategy manager for Terria consortium member Macquarie Telecom Hosting, Denis Rowe, numerous new business services will open up as a result of universal high-speed services. He says many companies will be better placed to use software-as-a-service (SaaS) applications, which are delivered over the internet. The most famous of these is the customer management software from US company Salesforce.com.

Software as a service
"With the NBN, hosted applications will run faster and arguably be more reliable," Rowe says. "What's more, with a faster NBN, we are likely to see the rise of a lot more SaaS applications that make it easier for SMBs to take advantage of this style of computing. The rise of SaaS is particularly attractive for SMBs as it makes big business-style applications accessible, without having to buy the software and hardware to run it up front."
Rowe says that with regard to e-commerce, the faster the network, the more feasible it is to perform more business critical financial transactions online. "Until now, the biggest barriers to outsourcing your critical applications have been lack of reliability, scalability, back-up and security," Rowe says.

The fun stuff
While the exact business benefits may yet to be uncovered, the chief technology officer at Telstra, Professor Hugh Bradlow, is certain that consumers will take advantage of the higher speeds for entertainment purposes. "There is whole new generation of people who regard TV as something that is 'so yesterday', and they are consuming their media online," Bradlow says. "The Generation Y or whatever they are, are starting to consume more and more of their media online. For those people, they will keep on wanting higher speeds.
"Entertainment drives the business case, but one of the things we have learnt from our Next G mobile network is when you create and make the service available, many people start doing things with it that you had never thought of."
He points to one example of a mobile breast-screening van, where images from an examination can be sent over the wireless broadband network to a remote specialist for an immediate opinion, rather than waiting for them to be delivered in the mail. "Everyone will find a reason why they can benefit from it. I think if you go through every knowledge worker in the country you will find examples."
Return on investment
With the Government committed to spending its $4.7 billion, the other big question is when we will see a return for that investment? Proposals to build the network had to be submitted by November 26, followed by at least two months of review. With the total network construction period estimated to take five years, there is a possibility that some potential users may not see any benefit until 2014. Additionally, a spanner has been thrown into the works thanks to the global economic crisis and plunging Australian dollar. The Terria consortium has announced that it has to change its funding arrangements due to the difficulty in sourcing debt financing.
Telstra meanwhile has repeatedly complained that the regulatory environment governing the proposed network, including the requirement to give wholesale access to competitors who have not invested in its construction, was not viable for running a profitable business.
Optimism despite downturn
None of that is good news for the many equipment suppliers who are lining up for a slice of the action. But the chief executive for Alcatel-Lucent in Australasia and North Asia, Hilary Mine, remains optimistic that the network will go ahead. "There is latent demand, and I know Kevin Rudd is bloody serious about this, because you can see that when he talks about it, so I am optimistic for Australia that there will be an NBN," she says.
"We used to have dial-up, and what happens is eventually you get addicted to something, you see what the experience is at the higher speed and you ask, 'why am I putting up with the lower speed?'
"The worst case scenario is that there is not an NBN, but there will be something else. People will build access networks."
Alphabet soup
Much of the discussion of the National Broadband Network has focused on the technologies that will be involved in delivering it. Most current broadband services use a technology called Asymmetric Digital Subscriber Line (ADSL) technology, capable of download speeds up to 12 Megabits/second, or its successor, ADSL 2+, which can achieve speeds of up to 24 Megabits/second.
The most likely outcome is the network will be built in a configuration known as Fibre-to-the-Node (FTTN), where high-speed fibre optic cables are run to cabinets that service neighbourhoods of several hundred houses. The connection to individual houses is then completed using traditional twisted-pair or coaxial cables.
Most existing networks generally only run fibre to the local telephone exchange, which services much larger neighbourhood areas. The advantage of a FTTN network is that by bringing the fibre closer to the end customer, much faster upload and download speeds can be achieved.
Faster speeds again can be achieved by taking the fibre right up to the end customer, in what is known as a Fibre-to-the-Home (FTTH) network, but the high cost of fibre equipment makes such networks prohibitively expensive for residential neighbourhoods.
The business case
In many other markets, the deployment of high-speed broadband networks of 25 Megabits/second and above has been driven by telecommunications companies wanting to offer a broader range of services than just telephony and broadband access.
One of the most common services has been internet-based television (also known as IPTV), where the telecommunications company provides a range of television-like services. IPTV is seen as a good way of providing a service that helps to recoup the cost of the network rollout, while the carrier can continue to provide telephony and broadband access services to the same household.
With Australia's largest telecommunications company, Telstra, also owning 50 percent of the dominant cable television provider, Foxtel, Australia has not had the same competitive pressures that have driven the deployment of high-speed networks as it has in the US and Europe.
According to the chief executive of telecommunications equipment maker Alcatel-Lucent for Australasia and North Asia, Hilary Mine, the other challenge working against the deployment of IPTV services in Australia is the government's laws that prevent subscription television services acquiring the broadcast rights to a wide range of sporting events – reducing the motivation for consumers to subscribe.
"In Australia it is very hard to put up an IPTV business case at the moment compared to other countries," Mine says. "Australia is famous as a place with some of the lowest pay TV take rates on earth. How much does that have to do with anti-siphoning laws? I suspect a lot."
She points out that statistic is at odds with the obvious demand for television and other content in Australia – the country currently ranks second behind the United Kingdom in terms of being the biggest downloader of illegal content.
"There is a lot of latent demand for content," Mine says. "Where there is latent demand eventually there can be a business case."