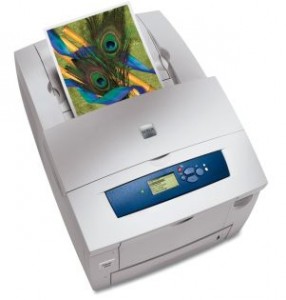 Small business owners are often faced with the challenge of producing superior marketing collateral whilst at the same time keeping printing costs under control.  Well produced marketing collateral in colour can help deliver a lasting impression on prospective customers and this can make a difference in closing a sale.
Industry research shows that colour emphasises critical information and conveys a sense of professionalism. As the saying goes, "you only get one chance to make a first impression" and using colour demonstrates that you mean business. The decision to read or reject a flyer or brochure is made by the reader in just 2.5 seconds.  Using colour can keep a sales brochure on the desk and out of the rubbish bin.
Small businesses often have a small budget when it comes to marketing their products and services.  While some businesses may choose to print brochures using an offset printer, small businesses can achieve the same quality results by printing in-house with the right type of colour printer.
Despite improvements to the quality and cost of colour printing in-house, some businesses may choose to outsource the printing of brochures because costs are pre-determined by the cost per page. Outsourcing printing means you only pay for what is being printed and there is no capital or recurring costs associated with purchasing or maintaining a colour printer or replenishing consumables.
However, the drawbacks may be:
A high level of wastage due to fixed print runs and quantity based pricing
Reduced flexibility to change content before printing
Longer lead times due to job queue systems set up in shops
Hidden personnel costs such as time spent liaising with printers
There are obvious benefits to printing in-house in terms of speed, flexibility, and control of content.  Equally, there are concerns about expensive printers required to produce high quality prints and how printing costs could spiral out of control.
Every business should have a good quality colour printer that produces high-resolution printouts at a fast speed.  This means a print job can be sent and ready to leave the door just as employees dash out for their next appointment.  Printing in-house also allows agents the flexibility of making changes to marketing materials without incurring the cost of reprinting materials during a campaign.
The total cost of ownership should be taken into account when determining what colour printer is right for a business.  For example, the upfront cost of purchasing a small colour inkjet printer may be low but the long-term operational costs may be much higher when compared with a colour laser printer.  Some printers have less moving parts which translates to a lower maintenance cost over time since there are fewer parts that need to be replaced during the operational period.
Some vendors have also started to move away from selling printers to selling an in-house managed printing solution to companies.  This in-house managed printing solution offers a fixed price cost model and the flexibility for companies to "print on demand" in their own office.  Known as a Managed Print Solution (MPS), this has only been available in a corporate or production printing environment until recently.
Companies are only charged a fixed cost per page basis, irrespective of how much toner or other consumables are used.  Agencies who are concerned about hardware acquisition costs and the potential of spiralling costs associated with colour printing may find the predictable costs associated with a MPS attractive.
Purchasing a printer or deciding on whether a MPS is right for your business often requires a lot of research before a decision is finalised.  A printer vendor will be happy to recommend a specialist in your local area and recommend a solution that best suits your business.
Tips for selecting a good colour printer
1.    Don't be swayed by the cheapest colour printer you can find.  Consider the total cost of ownership when buying a printer.  Find out the cost of consumables as this will make the real difference.  The cost of producing a colour printed page on an inkjet and colour laser can vary significantly.
2.    Ask about the print resolution.  To make the best impression and to get the sharpest images, you will need a high print resolution of around 1200 x 1200 dpi or dots per inch.  If quality really matters, find out how accurate the colour reproduction is.  Good printing technology will often produce better results.
3.    Consider whether consumables can be easily purchased from different retailers or ordered online.  You don't want to be stranded with a printer which needs special supplies that have long re-order periods.
4.    Ask about the First Page Time Out speed.  This is an industry standard speed for determining when the first page will be printed and is often linked to a printer's memory capacity.
5.    Think about whether you need a printer which can print custom media sizes – for example, to handle thick paper stock, envelopes or special sizes.  Perhaps, you may need a printer that can handle A3 printouts as posters for your shop front.
6.    If you are printing directly from graphic software such as Adobe Photoshop, you may need a printer that handles PostScript or PCL fonts.
7.    Consider the number of users who will need access to the printer.  This would make a difference between buying a desktop model that supports a small workgroup or a larger enterprise printer to support a networked computing environment.  You will need to consider your computing environment and whether the printer will support existing software packages.
8.    Find out what the maximum duty cycle for a printer.  This will tell you about the number of printed pages it can produce within the manufacturer's quality claims.
9.    Consider the energy efficiency of a printer and look out for devices which have been certified to be more energy efficient.
10.    Think about the environment when you purchase your next printer.  Find out if the manufacturer offers a take-back program at the end of the product's life cycle.  You can refer to websites such as Recycling Near You http://www.recyclingnearyou.com.au/ to find out how you can put your old equipment or cartridges to rest.

Tom Lewis is the Marketing Manager of Australia and New Zealand for Fuji Xerox Printers. For more information about Fuji Xerox Printers, visit  www.fujixeroxprinters.com.au
Seeking to promote your business? Create your free Australian business listing with Dynamic Search business directory – Sister site of Dynamic Business.