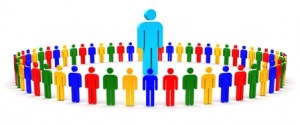 In business, as in real life, first impressions are everything. Creating the right personal image is crucial not only for individual success but for the longevity of your business.
Your image can be as deep or as superficial as you choose, but it will affect how you're received by people. On a corporate level, brand image is an insurance policy an organisation and its leaders cannot afford not to have.
The business brand is focused firstly on the entity (including its people). Both personal image and business image need to be well maintained if a business is to thrive. Business image is usually more strategic and goal-oriented than personal image, but the face of a company is in its people, so it's important to maintain your personal image. Personal branding is how you tell your clients your point of difference. It is the business system of your image communication strategy and designed to ultimately create financial wealth.

Reputation is key
In the tough new economic environment that we are all facing, customers make decisions on products and services based on a company's reputation. Customers are looking for safe and recognisable products or services that are reputed to deliver. Customers are paying more attention to a company's overall image; their values and personality, than ever before. In any system, image and branding are keys to effective communication and play a part in all aspects of business.
Industry and business leaders in particular, need to pay close attention to their image. Leadership is a rare concept in our super-sensitive politically correct times, having become yet another step in the corporate ladder, but it is actually a very important aspect of business. Many people find themselves in positions of leadership due to their connections, political, hierarchical systems or just luck, rather than 'natural' leadership skill.
Branding for these types of individuals also helps to position them as leaders despite their lack of experience. Many people take leadership training courses to help them with issues such as communication with staff, counseling, teamwork, performance and delegation.
Leadership and image
In actual fact, leadership is closely related to image. Leadership is about inspiring people to follow, about being true to the business cause (which may not necessarily be your own cause). A leader must project confidence, reliability and authority in a manner that influences people to go into action.  Therefore, the first aspects are the personal traits and character of the individual that correlate to create an image that can be nurtured to become a brand.
In the real world of business, you need to stack the odds in your favour. The starting point is to ascertain your image in relation to where you are and where you want to be, find the gaps and then create and develop it to become an "authentic brand". Change in behaviours and style takes a stretch and starts with a want, a need and "coachable" attitude.
The first step to changing your image is to agree that you can improve. The second step is to find a professional and accredited image consultant who understands both your personal and business needs to help you move in the direction you want. Take John Grundy, CEO of Grundy Consulting Group, for example. Grundy was a professional who was accustomed to setting goals and achieving what he set out to do. Although his business was already on an impressive starting base, he found that moving to the business world brought its own set of challenges. The most pressing concerns he found were those of improving performance, building revenue and increasing profits.
To achieve this end, Grundy sought out the assistance of an image coach. Using step-by-step analysis and goal-setting, Grundy went through a thorough appraisal of his current situation where he addressed the encumbrances and planned for clear outcome achievement. Both personal and business presentation formed the initial changes that were undertaken, followed by a redesigning of the business brand and business and personal goal-setting. The result? An increased revenue by more than 300 percent since the commencement of his coaching program.

Not all glamour
Image changes are not about Hollywood-style makeovers. If you are a professional, make sure your image consultant has business experience and is ready to give you the coaching you need, both psychologically and physically. In business, fashion is secondary because fashion is not needs based, but product based; a fashion consultant would be more concerned with "selling" you the latest product. Ultimately, an accredited image consultant can help you to become more successful in your professional and personal life. Image consultants can accomplish this through working with you to enhance your interpersonal skills, improve your appearance and to increase your confidence.
This isn't to say that the way you dress doesn't change your image. Everything in image is relative. A strategic new look that's well put together can outlive any fashion fad. An external transformation has a profound effect on an individual's internal wellbeing and confidence, especially in the short term. The trick is to capitalise on this change by working on other aspects of your personality as per your needs and prioritise your future efforts in regards to brand image.
A strategic brand image actually saves you time, energy, effort and money. It's designed to increase your wealth position in all aspects from status and influence to relationships and money. It's really all about return on investment.
The bottom line is to become "real" to your clients. Your image should be more than just skin deep; just take a look and see for yourself all the successful people and businesses that use brand image management.

-Jon-Michail is the founder and CEO of Image Group International (www.imagegroup.com.au) and the Institute for Image Management, an Australian-based multimillion dollar organisation. Having trained more than 400 image coaches worldwide, Jon-Michail has extensive experience in inspiring individuals and organisations to pursue their vision by integrating the power of their personal and corporate brand in a holistic manner.
Seeking to promote your business? Create your free Australian business listing with Dynamic Search business directory – Sister site of Dynamic Business.