Browsing through some websites can feel like an obstacle course. This week, I've endured all kinds of annoyances, which made me 're-direct' my personal spending. I would have put money in their pocket.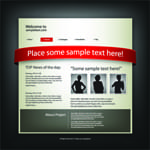 I've been exercising and my wife says I need new clothes. Knowing what I want, I visit a few clothing websites to eliminate the pain of being dragged through the shopping centre. I'm in a hurry. The first website wants me to watch an introduction before reaching the homepage. I close it. The second website looks funky but, with poorly designed flash animations, is slow and cumbersome to browse. My patience is worn out.
The third shop sports a quick and easy to browse website. It takes me 15 minutes to whip through the catalogue and select five items I want. I can even order them online if I want but I want to try on the sizes first. The next day, I walk into that shop and spend five minutes buying the items I picked online the previous night.
Missing information
I go online to book accommodation for a holiday. Tourism operators are reeling from the downturn so there are bargains everywhere.
I find the website of a hotel recommended by a friend. It looks pretty, but lacks information. It lists prices for Standard, Superior and Deluxe rooms but there are no details and few images to indicate the differences. Why should I pay an extra $30 for a Deluxe Room if it doesn't tell me what I get? There's no map to tell if the beach will be one block or ten blocks away. Should I risk booking? No—I can't decide, which room to book for lack of information.
One of its competitors has a great website with descriptions of each room type, a map and labelled images. I get my credit card out.
Losing money by the day
I want to buy a gift voucher for a friend at a massage clinic but the website doesn't mention if these are offered. I email an enquiry but by the time the eager owner calls me to say they have gift vouchers, I've already made the purchase elsewhere. Why waste time?
I want to sign up to an airline's email list to be notified of sale fares. But it makes me fill out ten different fields and gives error messages if one is missed. No deal.
I want to buy a new monitor, but the online computer shop makes it compulsory to register an account before buying. I can't be bothered.
Pointless extra steps
I prefer the Sydney Morning Herald (SMH) website over News.com.au for my news. But lately I've visited News.com.au more instead. Why?
SMH splits longer articles into multiple pages. I have to click on 'next page' or 'view single page' to read the whole article. With this extra, annoying step, SMH is slowly losing me—and advertising revenue—to its competitor, News.com.au, which conveniently displays each article in whole on the page.
See it from your customers' eyes
I might sound like a grumpy man now. But mistakes like these cost businesses thousands or millions of dollars a year. When you design your website, put yourself in your customers' shoes. They are time-poor, attention deficit and impatient. They possess a low threshold for irritating features.
When it comes to buying decisions, they don't care much for fancy graphics and presentations—they just want information. Well-worded descriptions and details are important. And for many products, like hotels and fashion, a good selection of quick to browse images is also important.
Your competitor is a click away
Don't overlook the fact your customers can click onto a competitor's website at any time. The moment they can't find the information they want or see an obstacle, they may use Google to bring up several alternatives.
In fact, customers will often open several competing websites simultaneously for comparison.
Disable the obstacle course
You're unlikely to get feedback if your website is afflicted with some of these problems. Few visitors bother to tell you why they didn't make a purchase or enquiry.
Seeking to promote your business? Create your free Australian business listing with Dynamic Search business directory – Sister site of Dynamic Business.
Often, the only symptom of the problem is a poor conversion rate. If your website receives 500 visits per month and only generates a handful of enquiries, you should suspect there's something wrong. Here are some of the pitfalls to look for:
Splash pages and introductions
Splash pages and introductions often add little value and serve only to frustrate or delay visitors from finding information they seek. To you or your designer, an introduction can seem like a great—almost necessary—way to distinguish your website, give it a "wow factor" or push your brand message. Step into your customers' shoes and you soon realise they see it as an annoying extra step when all they want is to reach the homepage to find the information they want. A better alternative is to put animated introductions on the home page as a banner so your customers aren't delayed.
Bogged down by Flash
Flash is a fantastic tool for creating a visually pleasing look but it has some serious downsides. Too many animations make your website slow and prevent users opening multiple pages at once. Flash cannot be read by Google so your search engine rankings may suffer. If you plan to use Flash, make sure your developer knows what they are doing or it can put your website at a severe disadvantage.
Long loading times
Ensure your website loads quickly. The longer each page takes to load, the less your customers browse and learn about the benefits you offer. If you run an online shop, longer loading times mean customers see fewer products. It's like ushering a customer out of a shop before they're done browsing. I recently reviewed an online shop. Each page took ten seconds to load. At such speeds, how many products would customers have the patience to view? The business had invested a high five-figure sum to build the website and was left reeling with few sales. While most internet users have fast broadband, be aware many people now browse through their mobile phones or with slightly slower mobile broadband connections.
Poor information architecture
A website missing important information is like a salesperson with poor product knowledge. Check if your website has all the information visitors need to make a buying decision. Think of the questions customers ask and check if answers are easily found. Are the pages logically structured and easy to find? Are they visible in the main menu?
Design: Creative but unpractical
The design of your website should facilitate the flow of information rather than hinder it. Ensure the text font used is not so light or small that your key selling messages become invisible. Make critical engagement points like menus and buttons visible and prominent.
Internet users often shop by elimination. Check your website for obstacles to avoid being eliminated.
–Brad Martens is the Managing Director of Seeclear, a website, digital marketing and brand design agency in Sydney. Find out more at www.seeclearonline.com.au.
Seeking to promote your business? Create your free Australian business listing with Dynamic Search business directory – Sister site of Dynamic Business.