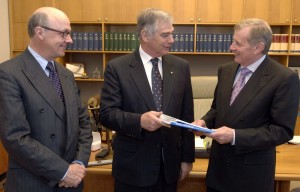 He conducted a review of business programs in 1996 and was appointed an Officer of the Order of Australia in 2005, but what does David Mortimer have to do with export policy today?
The submissions we put into the Federal Government's Review of Export Policy and Programs commenced with the words: "Never has broadening and deepening Australia's export base been more necessary and rarely, with the rising value of the Australian dollar, has the challenge faced by the exporter, prospective and existing, been greater." We can add to that the even greater challenge faced by exporters brought on by the international credit crunch which, apart from minerals, has well and truly dampened demand.
With this as a backdrop, David Mortimer AO, Dr John Edwards and a team from the Department of Foreign Affairs and Trade, including Austrade, set out to examine the best way forward for maximising our international trade and investment performance.
After discussions with hundreds of exporters, export service providers, government agencies and the digestion of over 160 written submissions, the 'Mortimer Review' was presented to Minister for Trade Simon Crean on September 21 in Canberra. The two-part, 260-plus-page document covers everything from market access to the programs that drive exports and investment, and presents the minister with some 80 recommendations.
While exporters have an obvious interest in the ramifications of trade policy, it's no surprise that exporters, particularly in the SME sector, have a greater interest in the nuts and bolts of trade promotion, including Austrade representation offshore, assistance programs like the Export Market Development Grants (EMDG) scheme and financing their export growth. In this respect, it's encouraging to see Mortimer has addressed these and similar issues and strongly recommends that government give priority to the funding of these programs.
The biggest one is the EMDG which, due to changes introduced a year ago, has experienced some really troubled waters. This has resulted in a quite severe lack of confidence from exporters and a subsequent drop in export marketing expenditure. It's pleasing to see that the review team has recognised the importance of the EMDG program to Australia's export performance and highlighted the need to restore confidence by saying: "A well-designed program should not create uncertainty about the level of benefit."
Lifting the program cap to $200 million is close to what we expected and indexing it annually to preserve the real value is good to see. To avoid what occurred in 2006-07, Mortimer has provided some recommendations such as reducing the number of grants from eight to five and increasing the minimum threshold to $30,000, or reducing the reimbursement rate. These recommendations need debate, particularly the suggested move to reduce grants, as I see no point in returning to the time when marketing slowed and available funds were underspent. For me, the most important issue is making sure the program is fully funded and that exporters are confident in going out there and spending at levels that will build a sound and profitable export business. The really good news in the report was the recommendation that the EMDG shortfall in 2007-08 be addressed. If the Government is serious about wrestling back confidence, this is where it must start.

Alternative finance
Another encouraging aspect of the report from an assistance viewpoint is contained in Appendix 1 of the full report under the heading 'Alternative Finance Options'. Here Mortimer discusses three new program options to work in tandem with the EMDG scheme. While all three have merit, the first one is of particular interest to the SME sector. Called the 'New to Export Grant' the text argues rightly that new, inexperienced exporters need forms of finance with inexpensive application processes and the shortest possible delays between incurring the expenditure and the grant allocation. It's a dollar-for-dollar program and expenses incurred would be limited to typical first market entry expenses. It would also recognise 'preparation to export' costs such as market research, business planning and importantly, the development of export skills. This program would form a bridge between TradeStart and EMDG, undoubtedly allow better targeting of EMDG, and assist in addressing the high dropout rate of new small claimants under EMDG. I trust the Government will look closely at this initiative.
This brings me to TradeStart, Austrade's very successful new exporter development program. In short, Mortimer supports the program and recommends it be extended. This is good for two reasons: first, it's inexpensive and it works. Second, because of its delivery design, it encourages Commonwealth, state and private providers to work together for a mutually beneficial outcome. We see this second issue—cooperation between agencies and the outsourcing of functions to the private sector—as critical not only for TradeStart but for a range of activities, including export skills development and overseas representation. It's encouraging to see the report address this very important issue, as duplication makes no sense at all.

The report, of course, goes further than this and accords a high priority to the Council of Australian Governments (COAG) to "construct a seamless national economy for goods and services that delivers a truly consistent regulatory environment". Wonderful words, not only to the export community, but also to our colleagues in transport and logistics. Mortimer recommends that COAG accord a high priority to elevating the importance of international export and investment considerations in the deregulation agenda and, by example, highlights the need for greater streamlining in program and service delivery, and cutting the regulatory burdens faced by SMEs.
He goes further to give priority to implementing a paperless trading system in the area of customs documentation. As argued in previous papers, this latter issue is an enormous cost burden to Australia, to exporters and to the environment. From an SME exporter viewpoint, addressing these international competitiveness issues is critical.
In early discussion with the review team, I was concerned that financing offshore activity would get swept away, particularly for those in the SME sector. We are very pleased to see that the report provides a strong commentary on the issues and makes a range of recommendations in relationship to that, and participation in international supply chains. First, it supports the limited expansion of Export Finance and Insurance Corporation (EFIC) powers to support Australian companies seeking to invest offshore. Secondly, it equips Austrade to advise new exporters and offshore investors on appropriate sources of financial advice.
As investment in offshore production facilities and participation in international supply chains become increasingly important to trade and to our international competitiveness, it's important that the financing of these activities is addressed.
We also endorse the need to ensure our overseas network of Austrade offices is well resourced, as the SME sector is highly reliant on these facilities, particularly the knowledge and skills of the local staff. We endorse too the establishment of a trade and investment council and an Austrade Board and stress the importance of sound representation from the SME sector whose needs differ from those managing large export operations.
The report is not radical befitting the current economic environment and there is no massive shift in what we are doing to drive export and investment. A number of the recommendations are based upon doing the good things better and investing in areas of greatest return. Its strategic approach is on the four key pillars, namely international competitiveness, market access, market development and cohesion, and coordination. With a few exceptions on the mechanics of the EMDG scheme and more emphasis on skills development, the report from an SME sector perspective addresses the key issues and we trust the minister will endorse its implementation.
—Ian Murray is the executive director of the Australian Institute of Export

But wait, there's more
This article is just a snapshot of the review. Download the full report at www.dfat.gov.au/publications/mortimer_report