When it comes to technology, how confident are you that you have the right tools and knowledge to unlock your business potential? Are you well versed in technology buzzwords, or do you find yourself scratching your head at the notion the cloud is now so much more than just something in the sky?
Technology can be confusing to us all – especially at the rate new systems and devices are becoming available – regardless of whether you're an expert or a complete novice. Yet, it's also becoming increasingly crucial to business success.
Over the coming weeks, Citrix's SMB Business Bootcamp aims to equip you with the knowledge you need to achieve your business goals with IT. We're going to show you new ways to work better, cutting the jargon and profiling business scenarios you can relate to so that IT becomes an enabler, rather than a hindrance.
To kick things off, we're going to explain IT concepts in language you can understand and why it's important to realising your objectives.
The Cloud
The best IT systems for SMBs are often underpinned by the cloud. In its simplest term, the cloud is a set of online resources where you can run your programs and save your data – rather than on your local network – so that both you and your employees can access information from any device or location.
Perhaps you remember the days of large server rooms in offices, or the large box under your desk. These days you don't need to invest in a physical system to house your IT network. Instead, you only pay for the capacity space you need – and this can be rapidly increased and decreased to suit your business needs – with predictable and easy to manage monthly costs. Unless you diligently back up your data regularly or apply the latest updates and patches – and let's be honest, who does? – you'd be better off outsourcing your IT needs to the experts, ensuring your technology is fine-tuned for success while you focus on growing your business.
IT-as-a-Service
Thanks to the cloud's capabilities, you can rapidly access IT services as you need them. Whether it's software (sometimes written as SaaS), such as your email system or payroll solutions, or computing platforms (you might read PaaS), you can access IT through the cloud, enabling you to use IT as and when you need it. You might even see the term Workspace-as-a-Service (WaaS), which simply refers to a cloud based service that delivers a virtual and mobile workspace environment included a virtual desktop, a suite of applications and mobile data.
Virtualisation
Think of virtualisation like commuting to work. Lots of cars carrying one person isn't very efficient. If we were to all take the bus, train or even fly (well, it is in the cloud!), multiple passengers can travel together, fully utilising the resources available and limiting waste. When you create a virtual version of your physical IT environment, such as your employees' desktops, your servers, or the software applications used across your organisation, you're able to make more efficient use of your IT resources as well as empower your employees to access services on the move. Virtualisation is one of the core features of the cloud, but also applies to your own IT infrastructure.
To give an example of how desktop virtualisation works, if you run 10 PCs with a desktop virtualisation technology, such as Citrix's XenDesktop, they can all access the same central server, storage and even operating system. This means the environment can be managed from a single point – rather than 10 – making it easier to upgrade software while delivering a consistent user experience, in an efficient business manner.
Beyond XenDesktop, Citrix offers a host of virtualisation technologies, including XenApp, XenMobile, and XenServer, empowering you to virtualise your software applications, mobile applications, and IT servers respectively.
Network Optimisation
To ensure your computing environment can efficiently operate, data must be able to seamlessly travel through your network so that critical services are always accessible to your employees, and perform to a high standard. Network optimisation tools are key to delivering this, and have fast become vital to IT environments as data volumes have expanded, and businesses moved to the cloud.
Enterprise Mobility
Simply put, this is using cloud and virtualisation technologies to empower your employees to work from any device, from any location, at any time in a safe and secure manner. This means you can work in the ways that best suit you, which is great for your business and for you.
The Internet of Things (IoT)
IoT encapsulates anything where an internet connected device, be it a house, a fridge or a smartphone, sends automated data messages to resolve or address a set objective. The most commonly referred to example of this is the 'tweeting fridge', which will tweet you and tell you when you are low of milk and need to pick some up. From a business perspective, these tools can be used for anything from monitoring your supply chain, to controlling your heating in the office.
IT Security
In the same way you have to protect your phone or your house, you need to protect your corporate data – after all, it's one of your most valuable assets. IT security is the act of protecting that data. This can range from passwords on laptops, to software that stops internet viruses, or secure file sharing technology, like ShareFile, allowing you to exchange files safely through the cloud.
Now that we've cut through some of the tech jargon, we hope you have an understanding of how technology can be used to grow your business. Next week, get ready to go mobile…
To discover first-hand how Citrix can help transform the way your business operates, collaborates and innovates, sign up for The Citrix Mobility Conference 2015 being held in Sydney in early July here.
---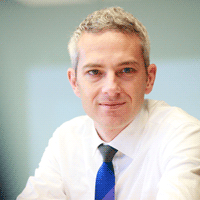 About the Author:
David Nicol, Director, Workspace Product Sales, Citrix.
Citrix Bootcamp: