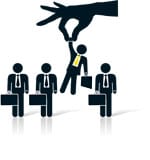 How does a franchiser pick a good franchisee and is franchising for you? We take a closer look at Quest Serviced Apartments, whose chairman recently won an Ernst and Young Entrepreneur Award for Services.
For anyone who has aspirations to run their own business, franchising has long been considered a low-risk stepping-stone from employee to boss. It's also a leap of faith.
For the business owner, franchising means placing their good name in your hands. For the franchisee, it's taking a chance on a new way of life.
With 74 franchisees across more than 125 properties in Australia, New Zealand and Fiji, Quest Serviced Apartments has built its business on the franchising model. Quest franchisees come from all walks of life and some have made huge career changes to take on running a serviced apartment business. Among Australia's Quest franchisees are former accountants, a nurse, a teacher, a chef and even a priest.
General manager of franchising, Nick Suriano, said the company's investment into finding the right franchisees has been key to the success and growth of the business. "That really makes a difference: passionate, motivated people, implementing the best system," he says.
Why franchising works
The franchise model has been extremely successful for Quest since its inception more than 20 years ago. Initially, some of the company's properties were corporately owned and some were franchises. But Quest opted for a 100 percent franchise strategy when it was shown that the franchise businesses were outperforming the corporate properties.
"The results were quite polarised. It was almost chalk and cheese," Suriano says. "The franchised properties were able to deliver a better bottom line. They had a smaller infrastructure and were run by motivated operators who were enthusiastic about driving their business. In almost every case where a business was converted to a franchised model, the performance doubled. Since we focused on franchising, the company's growth has been in excess of 20 percent every year."
How do you pick a good franchisee?
Quest receives more than 500 applicants for a year for an average of 10 franchised properties so competition is stiff. New Quest properties are only offered to existing franchisees and the company has a strict set of criteria, such as a proven financial track record, a clear business plan and a succession plan, making sure if they take on a second business that their first one does not suffer.
When it comes to new franchisees, Quest is looking for a number of qualities: business acumen, personal organisation, demonstrated leadership skills, strong sales orientation, communication skills and family and social support.
Franchise manager of Quest Newcastle and Quest Singleton, Belinda Stevenson, said the most important prerequisite for a franchisee is people skills: "You have to have a passion for people and you need to be customer focused because it's a service industry."
Employee versus franchisee
Franchisees agree that the number one difference between being an employee and a franchisee is responsibility. "The buck stops with you," says Stevenson. Quest Ballarat Mews franchise manager Andrew Hoffman, said his responsibility "increased tenfold overnight".
But with more responsibility, comes more reward. "It's very satisfying to work for yourself," Stevenson says. "And you have the franchiser and many other franchisees around you for support, which is a huge bonus."
Suriano says more than anything he sees franchisees grow into great business people in their own right. "There's a philosophy here that Quest is about creating business people. The Quest system empowers them to develop and use their management skills. If you're thinking you're sick of working so you're just going to become a franchisee and sit in a back office, you've got the wrong attitude and you'll fail."
Benefits of being a franchisee
Those looking to take the step into running their own business will weigh up the pros and cons of a regular small business versus a franchise. Suriano believes one of the biggest arguments in favour of a franchise is the reduced risk for those starting out.
"There's significantly less risk when you've got systems and processes and a strong brand behind you," he says. "We've never had a business fail in 22 years. It's a proven business. We do a lot of research before we select our next franchise opportunity."
Support from head office and other franchisees is another advantage. "You'll get excellent training, ongoing support, a refined business model, access to a strong customer market, a niche product, sales and marketing assistance and franchise mentoring," Suriano says.
And finally, there is the power of a network of likeminded people. "People love belonging and it's a socially-charged network. It's not just head office expertise, it's also about sharing hundreds of years' of experience and similarly-minded people with a desire to share ideas and resources."

So when do you take the plunge?
For Hoffman, the decision to take on a franchise came down to the support the company offered. "It was the upfront training. If we were just going to buy a motel, I'm pretty sure we'd be broke by now. With those businesses, as long as you've got a chequebook, you're in. I came from a building background—I was a roof tiler—so it was a complete change of lifestyle overnight."
The two-week intensive training course Hoffman and his partner Sandy Cook undertook was invaluable and took away much of the risk of embarking on a new business. While Quest's training was the sealer of the deal for Hoffman, it was by no means an overnight decision.
"For us, it was three years in the planning," Hoffman said. "We talked about it for a long time, but I'm so glad we went that way. We've been there four-and-a-half years next month and we've never regretted it. You learn every day."
For Stevenson, the decision to take on her own franchise was inspired by her own experience working in sales and marketing at Quest. "I'd always had a desire to own my own business and we'd looked at many other options and this was the best for us."
Suriano says there were two distinct groups of franchisees; around half are home grown (former company employees) and the other half are new franchisees. "In terms of most of our franchisees, they would be in their mid-forties, probably sitting in a middle or senior management level job, looking beyond their current role to 20 years down the track and not liking what they see," he says. "They see the whole business opportunity and the chance for independence."