Vodafone has released it's iPad plans and used its last mover advantage to declare war on both Optus and Telstra offering unlimited data and significantly better value.

Vodafone is offering pre-paid iPad plans in a similar style to both Optus and Telstra who have gone the pre-paid route with their Micro-Sim offerings. However Vodafone has, after significant delays in announcing prices for their plans, sharpened their pricing, offering plans at lower price points (starting at $9.95 for 250Mb) than both Optus and Telstra, as well as offering users unlimited data for a $49.95 recharge.
Telstra and Optus however only offer pre-paid iPad plans starting at $20 for 1GB (Telstra) or $14.95 for 500MB (Optus). Vodafone not only undercuts both of them by offering the lowest price point at $9.95 for 250Mb, but at $14.95 offers double the data as Optus at 1Gb.
Telstra's best value (in cents per Mb) plan at $30 offering 3Gb per recharge is under threat with Vodafone offering a generous 4Gb for an equivalent. Both Telstra and Optus's iPad plans costing more than $50 per month have been taken out by Vodafone's impressive unlimited plan at $49.95.
Vodafone's iPad plans definitely look to have the market for Micro-Sim devices sewn up. Holding back the pricing announcement until two days before the release of the iPad in Australia has left Optus and Telstra with very little time to move, however both rival's offers look very sad in comparison now. Telstra may hold its prices where they are, relying on the strength of the Telstra NextG network's performance and coverage to win over customers, however Optus is squeezed out in this equation, offering similar value to Telstra with a network footprint more like rival Vodafone, Optus will find it very difficult to compete in the pre-paid iPad plan space without further discounting or bundling offers to win over Australia.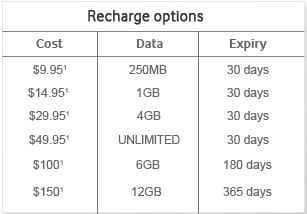 For comparison: