Tourism heritage could be the next big ticket item for the Gold Coast region, says a Griffith University tourism researcher.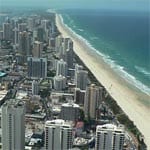 The Gold Coast has a unique opportunity to develop tourism-heritage product such as commemorative plaques, festivals and statues, tourism artefacts in museums, protected buildings and other facilities, as well as tourism-themed corridors and districts, says researcher Dr Dave Weaver.
Dr Weaver presented his ideas to key tourism industry representatives at a roundtable lunch entitled "Tourism heritage: A new product opportunity for the Gold Coast."
"The presentation was intended to stimulate dialogue and action so that the full potential of tourism heritage can be realised," Dr Weaver said.
"This roundtable presented tourism heritage concepts and development options, followed by some interactive discussions on how the Gold Coast could take a leadership role in developing 'new' product around the concept," he said.
"The idea of tourism heritage can include historical stuff, but on the Gold Coast, much of the tourism industry is post WWII and the concept is therefore about celebrating and promoting the contemporary tourism heritage."
Dr Weaver said the Gold Coast needs product refreshment and new products to bring markets back that aren't returning.
"We need to add more things like a tourism dedicated museum, bring back baby boomers who may have honeymooned here and start recording history now, including buildings that might be torn down but were hot spots in the 60s – so start archiving'