Tiger Airways have announced plans to return to flying Melbourne to Darwin amid concerns by many that the company will abandon the destination at the end of the dry season.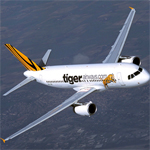 Tiger Airways had previously stopped flying into Darwin in October 2008 citing excessive airport costs making it impossible for a discount operator to economically fly into the destination. Tour operators in Darwin are concerned that Tiger will repeat their October abandonment of Darwin as a destination come the end of the dry season.
This concern has been given some credibility with Tiger Airways not accepting bookings for the Melbourne to Darwin flights beyond October 31 this year.
In responding to the concerns Tiger Airways spokeswoman Vanessa Regan indicated that tickets for seats on the route during the November-March period would go on sale "in the coming months".
"We look forward to serving Darwin year round, not just in peak season," she said.
Previously Tiger Aviation chief operating officer Steve Burns has complained that Darwin was the most costly airport within the companies network and lamented that it was impossible "for a true low-fare airline to operate to such a high-cost destination."
Jetstar has also announced plans to leverage Darwin as its hub for a fleet of Airbus A320. With an announcement that the airline will deploy seven A320s in "its Darwin base" over the next five years. With Jetstar using Darwin as a launch pad to expand the companies international operations within Asia, this poses risks to Tiger Airways long term survival in the region.
Jetstar officials however have preemptively given themselves an opportunity to pull out of Darwin should the NT Government and Airport management not come to the bargaining table prepared to establish workable infrastructure as support for its expansion plans. With Jetstar looking to the government to give the airline a 'fair deal' when establishing and running their Darwin hub.
With Jetstar looking to establish a dominant presence at Darwin, it is likely to lead to the destination becoming cheaper for competitors like Tiger Airways to use the airport infrastructure as it is further developed to permit Jetstar to operate such a large fleet from there. It is also however a dangerous proposition for Tiger to go up against such a formidable opponent looking to squeeze the smaller operator out from the area.
Will it be the year of the Tiger in Darwin?