Tiger Airways will abandon flights between Adelaide and Brisbane and Adelaide and the Gold Coast from November, citing poor passenger numbers on the routes.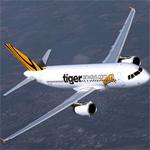 Tiger Airways abandoned flights between Adelaide and Hobart in July, and has further restructured operations by shifting some flights into and out of Melbourne to Avalon rather than Tullamarine airport where the airline is based. Tiger Airways will discontinue flights between Adelaide and Brisbane/Gold Coast from November 11.
Businesses and individuals who have booked flights with Tiger Airways on the aforementioned  routes will be given refunds or assistance in arranging for replacement bookings.
Tiger Airways' communication manager, Vanessa Regan, told the ABC the flights could resume if there is demand, claiming that Tiger had not completely abandoned the state.
"We treat route suspensions as temporary. Take for example our recent return on the Melbourne/Darwin route," she told the ABC.
Earlier this year Tiger Airways announced the company would resume flights between Melbourne and Darwin after ceasing flights in December 2008 with Darwin seen as the highest cost airport in Australia for the airline to operate from.