Twitter has released an official client for Google Android mobile phones, after doing similar for the iPhone last month.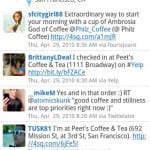 When apps work well with each other, sharing becomes as second nature on machines as it does in person. The Android platform is really good at that, and we've worked with the Android team to make it super easy to share what's happening. Today we are excited to announce that Twitter for Android is available in Android Market!

Twitter for Android is a fantastic application to use, and sharing any link or photo is super simple too – just look for the share button in your favorite application and choose Twitter.

Reading tweets is easy in a bunch of places on your phone. Quickly access your timeline with the home screen widget, view a tweet location on a map, and see your friend's latest tweet in your phonebook, GoogleTalk list or any application that uses Android's QuickContact bar."
Twitter for Android's most interesting feature is its contact syncing, which allows you to sync your Twitter friends and your Android/Gmail contact list, merging photos and other information and putting links to tweets in Android's contact list.
The app fully integrates into Android's native features like contacts, photo album, sharing and Google Maps. Unfortunately it only supports handsets running Android 2.1 and up (although it is reported to work on 2.01).
You can download Twitter for Android with your mobile from the Android Market.