Fewer employees considered changing careers in the second quarter of 2022 or looked for new jobs in other firms, suggesting that the Great Resignation in Australia may be subsiding as a result of the market uncertainties.
According to the ELMO Employee Sentiment Index for the second quarter of 2022, fewer employees are considering a career change in Q2 (25 per cent vs 29 per cent in Q1), and fewer are actively looking for a new role (15 per cent vs 17 per cent in Q1).
And why is this so? According to the study, nearly half of Australian employees struggle to fund their basic living needs due to rising interest rates and prices.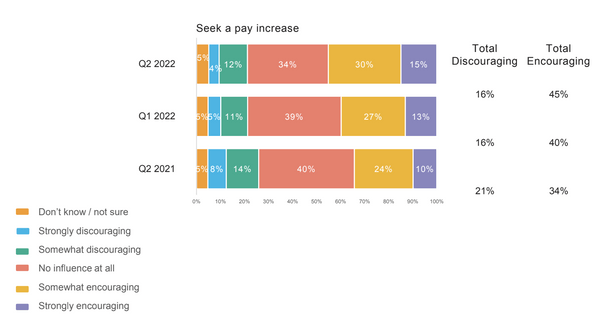 The most difficult things for employees to afford during the last three months were gasoline, housing costs, groceries, and electricity. 
Most respondents (70 per cent) reported that cost-of-living concerns negatively hurt their wellbeing, with Gen Z employees being the most severely affected (82 per cent).
The condition
Despite economic uncertainty, the number of employees expecting a pay increase in the coming year increased by six percentage points from the previous quarter (56 per cent), the highest figure in over a year. 
Similarly, those anticipating a performance bonus increased by four percentage points to 35 per cent. Due to Australia's ongoing skills deficit, employees are likely to feel more confident in their capacity to negotiate. 
In response to the findings, Danny Lessem, CEO of ELMO Software, stated that macroeconomic circumstances and social, political, and environmental issues affecting Australia and the world had forced employee priorities to alter.
"Typically in the lead up to an election and certainly post-election, there is rising uncertainty amongst business leaders and employees, until business and consumer confidence takes hold," he said. 
"The overwhelming feeling of uncertainty prompts more employees to remain with their current employer, expecting they will be rewarded for their contribution and loyalty."
One in two employees is encouraged by the economy to seek a pay increase, with that figure higher among Gen Z (64 per cent) and Millennials (55 per cent) versus Gen X (37 per cent) and Baby Boomers (23 per cent). 
The top three employee goals were similar in Q2: remuneration, bonus payments, and incentives, followed by flexible and remote working circumstances and organisational stability. And, with money being workers' top priority, the research indicated overwhelming worker support (87 per cent) for raising the National Minimum Wage after the federal election. 
The employee recognition and remuneration survey findings from April to June 2022 were positive. Almost 70 per cent of employees felt recognised for their contributions at work, 63 per cent said they are appropriately compensated, and 47 per cent said they are rewarded when the company performs well.
Lessem said executives who have taken note of the severe talent shortage in the market and implemented tailored strategies to reward and recognise top talent would reap the benefits over the coming months.
"The focus for business leaders in the second half of 2022 needs to be on empowering managers to understand the individual personal and professional drivers of their teams," he said. 
"It's about implementing the right strategy to maintain engagement while driving a continuous commitment to high performance, collaboration and celebrating successes in a hybrid, health-conscious world."
More here.
Keep up to date with our stories on LinkedIn, Twitter, Facebook and Instagram.