Men At Work has been ordered to pay royalties to Larrikin Music, after a judge found their hit Down Under to be partially plagiarised from a children's song.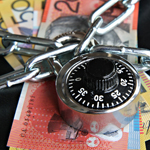 A judge deemed the flute riff in the song to be sufficiently similar to the tune of Kookaburra Sits In The Old Gum Tree, declaring that the band must pay 5 per cent of both future royalties as well as those earned since 2002.
However, this figure was well down on the 60 per cent asked for by Larrikin, which has owned the rights to the song since 1990.
In his ruling, Federal Court Justice Peter Jacobson stated that such a figure was an unreasonable target.
"I consider the figures put forward by Larrikin to be excessive, overreaching and unrealistic."
The children's folk tune was written by Marion Sinclair more than 70 years ago and has since been sung by generations of Australian school children.
Lead Singer Colin Hay has stated that any breach of intellectual property law was unintentional, declaring any similarity "inadvertent, naive, unconscious."
The song was originally released in 1983, reaching number one in Australia, America and the United Kingdom.