Malcolm Turnbull has announced he will resign from politics at the next Federal election, ending speculation that arose after he lost the leadership to Tony Abbott last year.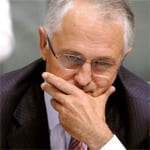 In a statement issued on his website, Malcolm Turnbull has announced he has formally advised both the Leader of the Opposition Tony Abbott and the President of the Wentworth FEC of the Liberal Party that he will not be contesting the seat of Wentworth at the upcoming federal election later this year.
Mr Turnbull reminisced over his legacy as Environment and Water Minister as well as his time serving as leader of the opposition.
"I thank John Howard for giving me the opportunity to serve as Environment and Water Minister. With his support I was able to ensure that for the first time in our history  the interstate waters of the Murray Darling Basin were placed under national responsibility." Mr Turnbull said.
"However, I regret that another important reform begun during that time, the establishment of an emissions trading scheme, is no longer Liberal Party policy."
Ending speculation over his future with the Liberal Party after losing a heated dispute over the party's leadership last year to current leader Tony Abbot, Mr Turnbull will not be re-contesting his seat or resigning from Parliament early.
"When I ceased to be Leader of the Opposition at the end of last year I resolved that I would not precipitate a by-election by resigning from Parliament." Mr Turnbull said.
"However I did say that I would reflect carefully on whether I would run at the election this year and having done so I am making this announcement."
"I will of course continue to serve the people of Wentworth as their Member of Parliament until such time as the Parliament is dissolved for the election and look forward to continuing to work with our community and contributing to public policy debate after my time in Parliament is complete." Mr Turnbull said.
Ending on a positive and diplomatic note, Mr Turnbull thanked his party and wished them the best of luck.
"Finally, I wish our Party and its leaders, Tony Abbott and Julie Bishop, every success in this election year." Mr Turnbull said.
"As to the future, Lucy and I look forward to once again pursuing new opportunities in the private sector."
It is not known at this time what private sector opportunities may be open to Mr Turbull, but it is expected the former Opposition Leader will have no shortage of doors open for him on leaving parliament.