LinkedIn today announced the launch of the LinkedIn application for BlackBerry smartphones at www.linkedin.com/blackberry and through BlackBerry App World.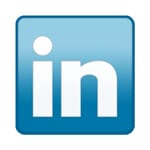 The new LinkedIn Blackberry application features native integration with the BlackBerry – which allows professionals to use LinkedIn within their BlackBerry's existing email, calendar and contacts applications.
"With the addition of the application for BlackBerry to our broader suite of mobile applications, LinkedIn is available to more business people than any other professional network in the world," said Adam Nash, vice president of search and platform products, LinkedIn.
LinkedIn for BlackBerry integrates with your BlackBerry contacts, email and messages:
Contacts.  Integrate your LinkedIn connections with your BlackBerry address book, and view the profile of any contact directly on your BlackBerry.
Messages.  LinkedIn invitations and messages will now appear in your BlackBerry Inbox, just like any other email.  You can also view the LinkedIn profile of the sender of any email you receive.
Calendar.  You can now view the LinkedIn profile of any attendee of a meeting on your BlackBerry calendar.
Now, right from the convenience of your primary BlackBerry applications, you can easily select "View LinkedIn Profile", and view the full LinkedIn public profile for anyone.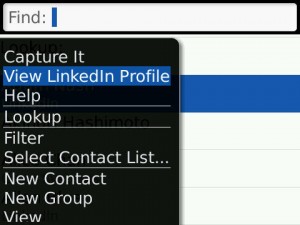 LinkedIn for BlackBerry features six modules, each with a user experience designed from the ground up for BlackBerry devices:
Network Updates. View and share crucial business intelligence and updates with your network.
Search. We've implemented a unified search across both your direct connections and the entire LinkedIn network.
Connections. LinkedIn is your address book in the cloud.
Invitations. Accept outstanding invitations immediately.
Messages. Messaging is one of the reasons that BlackBerry owners love their devices, and we've worked hard to integrate your LinkedIn Inbox.
Reconnect.  This module brings suggestions for new connections to you anytime.  Now you can build your network from anywhere, in seconds.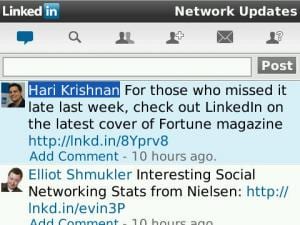 For more information on the applications visit the LinkedIn blog.