The Australian Labor Party has been quick to jump on the admission of Tony Abbott that what he says is not always the truth with an ad campaign targeting the opposition leader.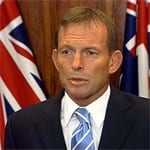 Tony Abbott told ABC's The 7.30 Report last night that he will often say things that are not 'absolutely correct' in the heat of the moment and these should not be confused with scripted and considered comments.
"I know politicians are going to be judged on everything they say, but sometimes in the heat of discussion you go a little bit further than you would if it was an absolutely calm, considered, prepared, scripted remark.
"Which is one of the reasons why the statements that need to be taken absolutely as gospel truth are those carefully prepared, scripted remarks."
Labor has launched a viral video campaign through YouTube hoping to capitalise on the Liberal leader's mistake. The advertisement is of low quality but shows the Labor party political war machine is ready to pounce when the opportunity arises.
Earlier today Kevin Rudd's office was quick to issue statements critical of Mr Abbott's admissions.
"Mr Abbott has now confirmed you cannot trust what he says because some things are real and some things are not real," a spokesman for the Prime Minister, Kevin Rudd, told the SMH.
"There are two Tony Abbotts – and you'll never know which Tony Abbott is talking, even in Parliament – the scripted Tony, or the Tony Abbott swept away by the heat of discussion."
Deputy Prime Minister Julia Gillard stayed on message to the ABC "He is basically telling you that there are two Tonys. There is apparently Gospel Truth Tony and then there is Phoney Tony," Ms Gillard said.