Figures out from ANZ show the Australian economy showing a strong post-GFC recovery with job ads surging almost 21 percent since January.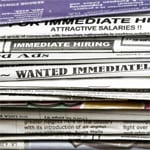 The ANZ Job Advertisement Series shows that job ads grew by 20.9 percent since January. With job ads growing by a very healthy 19.1 percent in February followed by another 1.8 percent in March.
The total number of jobs advertised in March rose to an average of 162,692 per week in seasonally adjusted terms.
Job ads in newspapers continued to decline, down 1 percent in March. However the shift to online more than made up for the shortfall, with internet job ads up 2 percent during the same period.
ANZ chief economist Warren Hogan believes the trend ion job growth is encouraging, despite the slower growth in the month of March.
"Having a modest increase after a big increase really reinforces that strong trend we're seeing in job advertising," Mr Hogan said.
"The continuation in job ads growth suggests labour demand is strengthening in early 2010 and confirms the rapid improvement in economic conditions in Australia over the past six months.
Job ads have improved markedly over the since July last year, with figures up 29.9 percent, however the figures are still 41.6 percent lower than the record high reached prior to effects of the GFC being felt in April 2008.
"This steady increase in labour demand is already translating into solid employment growth and reduced unemployment, even during the current period of relatively strong population and labour force growth," Mr Hogan said.
Mr Hogan said the ANZ was confident that unemployment would continue to fall throughout 2010, with official employment figures from the Australian Bureau of Statistics due on Thursday expected to reflect that.
"We expect (the unemployment rate) to ease down through the rest of 2010, although small, temporary wobbles are likely, depending on the monthly interaction between growth in the labour force, in jobs and in hours worked," Mr Hogan said.
"Following last month's correction in hours worked, we expect labour demand to translate into jobs growth of around 12,000 this month."
"The unemployment rate is likely to stabilise around 5 per cent or a little bit lower over the year ahead."
Mr Hogan is confident of the economy continuing to grow throughout 2010, with a confluence of factors contributing to stimulate growth in employment across multiple industry sectors.
"Growth is likely to be slower than in the jobs boom seen over the past six months, but the ANZ job ads surveys continue to improve, business investment and construction are regrouping, and business sentiment and expectations remain relatively strong," he said.