Apple unveiled their latest iPhone update, OS 4.0 in the early hours of this morning and it brings with it a whole swag of new features, top of which is multitasking support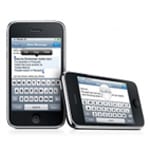 The iPhone update contains many other features, but multitasking is the one most demanded by its users. While Steve Jobs in his presentation at the iPhone OS 4.0 launch acknowledged Apple wasn't the first to implement multitasking (Microsoft was), he insisted that Apple's implementation would be the best, with the company inventing a clever way to manage applications which to the user appears like full multitasking as they are used to with their desktop operating system (OS X/Windows), is actually smartly designed to avoid the battery drain of having applications manage their own activity in the background.
To the user, it will appear seamless, when double-clicking the iPhone's Home button an OS X dock-like window showing all running applications will appear at the bottom of the LCD; tap on an app to switch to it. If you're playing a game or something with a lot of action, it will automatically enter a 'pause state' when you switch, and when returning, the game will continue where you left it.
The 'multitasking dock' will show you up to for running applications on the screen at once, but allows you to swipe to see more if more are running.
Apple senior vice president of iPhone software Scott Forstall discussed how Apple was able to give users the multitasking support they wanted, while avoiding the potential for battery drain and upset users not used to managing background applications on their devices.
Forstall said Apple was concerned about giving third party applications free reign over their background activity and instead looked at existing iPhone applications and identified what services a user would likely need to be running in the background. Apple then wrote API's that allow third party applications to implement those services, allowing the OS to manage battery life and performance, rather than having each application running fight for resources in the background.
Unfortunately only iPhone 3GS and iPod Touch users will be able to use this update, iPhone 2G and 3G users are left in the cold on this one.