HTC launched the HTC Desire HD and Desire Z in London today, with Vodafone and Three announcing they will be the exclusive launch partner for the HTC Desire HD  in Australia, breaking the stranglehold of Telstra on HTC's high end devices in Australia.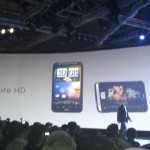 VHA announced that the HTC Desire HD will launch exclusively through Vodafone and 3.  Pricing and availability will be announced closer to the launch date.
Ross Parker, General Manager of Devices and Pricing  for VHA was excited about the HTC Desire product launch.
"VHA is excited to be the exclusive carrier for the HTC Desire HD, an outstanding and stylish Android device that brings further strength to our current Android range.  We look forward to providing our customers on Vodafone and 3 such a highly anticipated, powerful device."
Anthony Petts, Sales and Marketing Director ANZ, HTC Corporation expects the global partnership with Vodafone to be fruitful in Australia.
"We are pleased that we are expanding our partnership with VHA in the Australian market with the launch of the HTC Desire HD on the Vodafone and 3 mobile network. The HTC Desire HD will be available later this year and will feature the new HTC Sense experience. The device showcases some innovative new features including enhanced multimedia content for a truly stunning visual experience, a fast 1GHz Qualcomm 8255 Snapdragon processor, and HTC Fast Boot that enables users to quickly make a call or check emails even faster."