Limited office space as well as growing environmental awareness have facilitated a rise in business interest in incorporating greenwalls into office design.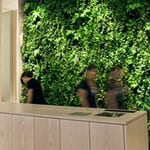 The concept combines indoor vegetation with traditional office partitioning, establishing creative landscapes that can adapt to the structural dilemmas associated with small spaces.
The environmental benefits of greenwall installations have been well documented internationally, with many businesses welcoming the associated increased productivity as well as reduced costs.
Greenwall installations – such as those produced by Australian company Plant Up – are made with 90 per cent recycled materials and require only 2 litres of water per day as opposed to the 10 to 12 litres needed by a native garden.
Plant Up Business Manager Jonathan Grealy said that recent Australian interest in greenwall technologies can be attributed to space restrictions and office requirements.
"There is a distinct need in the current building environment for innovative and creative landscapes that are adaptable to small spaces, such as offices.
"Increased thermal insulation of buildings and improved working environments such as reduction of noise, improved air quality and, ultimately, improved staff productivity are some of the bottom lone benefits of 'going green', in addition of course, to the aesthetic."
The company has transformed the external wall of their Brisbane office into a tribute to the possibilities of the greenwall product, constructing a 10m tall entrance that houses more than 60 different plant species.
Mr. Grealy says that 'grand plans' are not a requirement with greenwalls, and the product can be adapted to suit how little space there is to deal with.
"You can construct a greenwall with as little space as 1 sqm, and it's fun to put plants up a wall!"