People are being reminded to re-register their telephone number with the Federal Government's Do Not Call Register, with current registrations due to expire next month.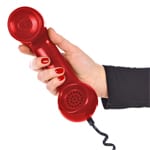 The Do Not Call Register, set up to allow people who do not want to receive calls from telemarketers, launched originally on the 3rd of May 2007. However in order to balance the interests from commercial interests the government through the Australian Communications and Media Authority, specified a 3 year 'churn' period where numbers would be registrations with the service would lapse and people would be required to re-register.
There are more than 4.3 million Australians signed up with the Do Not Call Register, with anyone who signed up when the service was launched in May 2007 (Almost 1 million Australians) should re-register their phone numbers now to maintain protection from unwanted telemarketing calls.
Telephone numbers can be re-registered by the following methods:
The register allows individuals to register their Australian home, mobile or VoIP numbers, provided they are used primarily for private or domestic purposes, to opt out of receiving certain telemarketing calls. Fax numbers cannot be listed yet, however Lifehacker AU believes they will be soon.