One of Australia's largest industry superannuation funds Cbus has announced an in-principle agreement to merge with Connect superannuation.
The merger will create an entity with almost $15 billion in funds under management and subject to a due diligence, should be completed by October this year. At the present time, staffing changes and decisions on what the merged brand will be have not been finalised.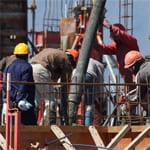 Cbus, with $14 billion in funds under management and more than 570,000 members is one of Australia's largest super funds, and is the industry superannuation fund for the construction, building and infrastructure industries.
Connect, the industry fund for the electrical and communications industry, is a much smaller player with only $700 million in funds under management and only 27,000 members.
Cbus chief executive David Atkins believed the fit was natural and necessary to ensure the survival of the funds as the industry continues to consolidate.
"The merger with Connect was a natural fit for our fund," Mr Atkins said.
"Connect operates in the electrical industry, which is consistent with our membership base in the building and construction industry," Mr Atkins said.
Connect chief executive Sean Leonard believed the merger would benefit members, with the additional scale afforded by being a part of Cbus allowing the fund to offer a wider range of products for members.
"A fund like Cbus will give us greater distribution and the ability to develop more products for members," he said.
It is expected that the superannuation industry will continue to consolidate as the industry strives to lower costs per customer and achieve scale. By 2025, the Cooper review into superannuation expects only 27 funds to remain, with the rest being absorbed by the larger players.