Second hand goods retailer Cash Converters has launched a new PR campaign to rebrand their image as a category leader across Australia.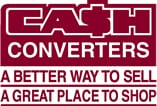 The Convert Your Thinking campaign is the culmination of a five year effort to reassert the company's public profile as Australia's leading second hand goods retailer, and was created by advertising agency 303.
Television commercials for the campaign were produced by the Gobstopper Production Company and PR was conducted by Professional Public Relations.
Later next month, a digital campaign will be launched by Longtail.
General Manager of Cash Converters, Ian Day, said that the campaign was designed to reflect finding the 'extraordinary' within the every-day.
"The campaign was designed to awaken consumers to alternate ways of thinking – to consider the world from another point of view.
"Who says your old isn't someone else's new, or that second hand can't be first choice?
"We're not out to change people's opinion about Cash Converters, we just want them to put aside any pre-conceived ideas they may have and take a fresh look."
The campaign represents a serious investment in public image grooming by the retailer, especially given its scope across multiple mediums.
303's Rene Migliore said the campaign reflected Cash Converters embracing their position as a market leader, and subsequently marketing themselves as exactly that.
"Our research told us that customers were ready for Cash Converters to take the next step in the way it presented itself – to be proud of the role it plays for its customers and confident in its position as a category leader."