The Telecommunications Industry Ombudsman (TIO) is increasing its powers by increasing the monetary limits on its decisions in relation to complaints about phone and internet services.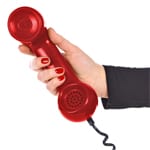 For complaints received after May 1, the TIO will be able to make legally binding determinations in disputes involving sums up to $30,000; the existing limit is $10,000.
It will also be able to make recommendations in disputes involving up to $85,000; this is up from $50,000. The TIO will review the new limits in 12 months.
The Ombudsman can still investigate and help resolve disputes involving sums higher than $85,000.
The Acting Ombudsman Simon Cleary said the increases were needed because the number of complaints involving large sums had increased whereas the limits had not been altered since the TIO scheme's inception in 1993. During that time the range of telecommunications services had expanded dramatically and the capacity for consumers to incur larger debts had increased.
"There is a general community expectation that the TIO can help consumers resolve disputes within our jurisdiction by virtue of the nature of the complaint,'' he said.
"Consumers would not understand why two complaints about the same issue – one involving $8,000 and the other $12,000 – were not both able to receive the same level of assistance from the TIO."
"The increases are reasonable and necessary to fulfill the TIO's role and functions in the current telecommunications marketplace.'' he said.
Mr Cleary said it could be argued that consumers with complaints involving significant sums were substantially more disadvantaged, and therefore more in need of the TIO's assistance, than those with complaints involving relatively small amounts.
He said by being able to make such determinations, the TIO could significantly reduce the need for customers to take action against service providers in the courts.
Mr Cleary said it was unlikely that increasing the monetary limits would result in significantly more complaints because the TIO was not restricted from investigating any complaints within its jurisdiction, regardless of the amount in dispute.
The TIO typically deals with complaints about service offerings from phone and internet services, with complaints about unfair billing practices common, with one person receiving a bill close to $215,000 for excess internet usage the most egregious example.