Online computer retailer Mwave has been forced to amend its website and warranty policy in accordance with the Trace Practices Act 1974 by the ACCC.
According to the ACCC, Mwave breached the Trade Practices Act by telling customers it was a "reseller only" and as such, not responsible for providing the same level of customer support a bricks and mortar retail store would when customers receive faulty items. This information on the Mwave website was deemed to contain misleading and false information about consumers' rights.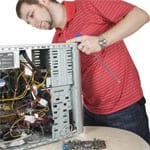 The Trade Practices Act permits consumers to request a refund from retailers without having to deal directly with the manufacturer, in addition freight costs for faulty items should be covered by the retailer, not the customer.
"Consumers have the same rights online as if they were to walk into a store," ACCC chairman Graeme Samuel said.
"Basically, they can expect that a product would have a level of quality and performance that would be reasonable to expect, do what it is meant to do and match its description."