Transurban is still a takeover target for CP2 investment fund after its advances were spurned with a capital raising on the open market.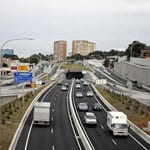 Cp2 investment fund, with Canada Pension Plan Investment Board and Ontario Teachers' Pension Plan already own 37 percent of Transurban, however the group intends on mounting a successful takeover bid, despite Transurban rejecting the bid last week. CP2 is the largest individual shareholder of Transurban with a 14.5 percent stake in the company.
Transurban intends on proceeding with a $542.3 million share sale to fund its purchase of the Sydney Lane Cove Tunnel, with the company announcing on May 12 that $410 million had been raised.
CP2's Managing Director Peter Doherty, said the Transurban bid was still very much alive, however the group was awaiting further response from Transurban.
"They may come back to us or they may not, we really don't know," Mr Doherty told ABC's Inside Business program on Sunday.
"It is very unlikely that CP2 would ever come back at a higher price than that," Doherty said. "I would like the company to reconsider and just canvas a few more shareholders just to see whether we actually are being very fair."
The CP2 joint offer for Transurban was at $5.57 per share, but this has dropped to $5.42 after Transurban announced they were diluting share value by holding a capital raising to fund the Lane Cove Tunnel purchase."Shareholders won't see that $5.57 again," Mr Doherty said.
"You'll now see $5.42 so that's a vivid reminder to people how disillusioning these type of issues are," he said.