In the flurry of activity to establish and grow a business, many business owners fail to differentiate between financial products and services designed for business as opposed to personal use.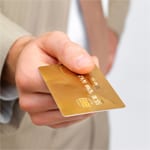 While it may appear easier to use a personal loan or credit card to cover business expenses, especially during the start-up phase, this course of action can blur the lines between personal and business finances, and create tax reporting issues for business owners.
That is where the business charge or credit card comes in; a way for businesses of any size to access funds, pay for business expenses and make an unambiguous distinction between liabilities and expenses incurred by the business as opposed to the individual. While the big end of town has long recognised the benefits of corporate cards, many small businesses are now grasping the distinct advantages of business cards and abandoning the use of personal credit cards or loans in the business environment.
What makes a business card different?
Business credit cards are not secured against personal assets. This means that any personal assets are therefore free to be used if a business owner does require other secured forms of finance. Furthermore, when it comes to tax reporting there is a clear distinction between business and personal expenditure; something that remains on the radar of the Australian Tax Office.
As businesses grow, many find their employees are also required to make business purchases. The clever thing about a business card is that the business can have multiple cards on the same account and can track business expenditure across all cards on the account.
Another benefit of a business card over a personal card is that they can have restrictions placed on their use, such as no cash withdrawals. Many business owners with multiple cards on their account find this added security comforting.
Additionally, some business cards now offer business travel insurance and cover in the event that the business is temporarily unable to operate. Add to this the fact that as a business card, the annual fee is tax deductible, and the benefits become overwhelming.
[Next: Credit or charge card?]
Credit or charge?
At first glance, the difference between a credit card and a charge card may not be clear but there are clear distinctions. The major difference is that a charge card must be paid off in full each month and doesn't allow the business to carry over their debt. This is a practice many customers like as they feel a sense of control through the discipline of paying in full each month. Businesses debating whether a credit card or charge card is best for their needs should consider:
Business charge cards:
Are suitable for companies which have a good idea of the money coming in and going out and are financially stable enough to pay off their total balance each month.
Have no pre-set spending limit, making them ideal for making large business purchases that may exceed the limit on a credit card.
Work well for businesses that want to improve their cashflow, particularly those with high stock costs because the extended payment period allows them to make sales before they have to pay for stock.
Do not charge interest on outstanding amounts. If the business is late in paying its monthly balance, a set fee or a percentage of the outstanding amount is charged.
Business credit cards:
Work the same as a personal credit card: the business builds up a balance over the month with a minimum repayment required by a specified date.
Are good for businesses, such as start-ups, that have fluctuating cash reserves and face situations where they may not be able to clear the total balance at the end of each payment cycle.
The final thing to consider is rewards
The great thing about business card products is that many now offer attractive rewards programs that allow points to be accrued and used by the business. A smart business owner can add many thousands of dollars to the bottom line by using rewards points to cover significant business expenses such as travel, accommodation, stationery, IT equipment and even corporate gifts. There is also the added benefit that all the expenses put on supplementary cards by staff members will accrue rewards points for the business.
Business shouldn't become personal!
While it could seem easier in the short term to use existing financial products for business use, it is important to remember that personal cards are for personal use. More and more businesses of all shapes and sizes are realising that cards designed for business owners offer a range of benefits and protections that are not available through personal credit.
–Jason Fryer is Head of Small Business Services Australia, American Express.