On the face of it, opening a new spin and yoga studio in Sydney's CBD sounds like a shortsighted plan. Aren't there already dozens of gyms doing that exact same thing?
But at 29 years of age, Tom Sproats has a rare level of entrepreneurial energy and passion, and his offering is far from any ordinary gym experience.
Since opening Scenic Cycle two months ago, Sproats is already cutting into Sydney's notoriously saturated fitness market, and he's doing it through sheer grit and determination.
It's a chilly Wednesday morning when I head along to ride one of the most magnificent roads in the French Alps, the Combe Laval, and I'm not disappointed. As promised, the vision is spectacular, and not being a fitness junkie per se, I'm genuinely surprised by how much I enjoy the class. The key element, and the driving force behind Sproats' concept is the notion of offering an 'escape'.
"I purposely wanted to open in the CBD because I find so many people in the city live such a stressful, hard life, but when they go into that room – 85 square metres – and just once the door closes, and the music goes, and there's the scented towels and the candles, and the leaders takes you on the journey – it really is an escape," Sproats says.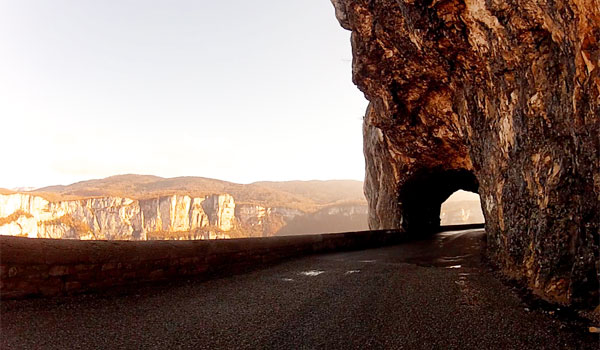 The studio is comprised of 40 state-of-the-art exercise bikes and two large screens, which project real-time rides of the world's most spectacular cycling routes. With a raised platform for the leader at the front, Scenic Cycle is a polished concept that I at first thought Sproats had purchased from, say, a large American brand. But that couldn't have been further from reality.
"I came up with the concept back in 2011, and thought 'Well how am I going to get the footage?' and I looked at all the options of purchasing, and I just knew those options wouldn't allow me to create what I had aimed to create – I knew that the only way of being able to create my vision was to do it myself and for it to become part of Scenic Cycle's IP.
"So it was a stringent part of the business plan, and I took three big filming trips, and the big one was through Europe. I drove a car across most of the continent and filmed about 48 different rides. Then I did another trip to the tropics, including Samoa and Japan, and another couple of trips to New Zealand and Tasmania, which I filmed over long weekends, because I was always working as well. Then there are also a number of Australian rides I've filmed too," Sproats says.
The filming, the travel, the equipment, hire cars, accommodation, and time off work all came at a tremendous cost, and Sproats decided to enlist the support of his family and friends rather than a bank for capital. In the early days, and to demonstrate his concept fully, Sproats even went as far as filming rides around Sydney, purchasing second hand exercise bikes and a projector, and setting up a mock studio in the family garage to prove he had the drive to get his idea off the ground.
"My investors saw the validity in the business model, and that it could work really well, and now we're just focused on putting bums on bikes. And in the yoga studio as well."
A truly diverse work history, complete with a foray into driving limousines, has no doubt helped narrow down exactly what Sproats is most passionate about.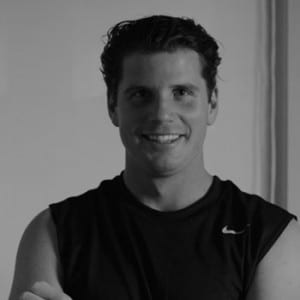 "One of my loves is media and filming, and I've filmed and edited nearly all of the 100 rides on my own. Filming, editing, matching the music, and getting the speeds right is all the most time consuming part, and it takes me roughly 10-15 hours per video, so there's well over 1,000 hours worth of editing. A lot of people think it just magically turns into that end result – but the time it takes behind syncing it up, training new leaders how to bring the Scenic Cycle 'X' factor to the class is very time consuming, but I do absolutely love it.
"I spend most of my weekends editing and preparing new rides for the upcoming weeks. I've got all the raw footage there and backed up, and we try to put as many new rides into the timetable as we can each week," Sproats adds.
Being a truly unique concept lends itself to copycats, but Sproats believes it might be easier said than done, and it's not a problem he is particularly worried about. "At our core, we're really made up of three things: the right music, the right leaders, and our vision. That's what we're really focused on, and to continue to refine what we're offering.
"In the end, the most important asset of Scenic Cycle is its people. If I can hire the right people who bring the right energy to the classes and the front desk, well then it's very hard to copy that. Plus I guarantee I will work harder then anybody else trying to copy this idea. I can't guarantee I'll do it better, but I'll put my heart and soul into it and work harder than any of my competitors to make sure that it all ticks exactly as it should," Sproats says.
With a vision to grow to ten studios nationally, and expand into overseas markets, there is a lot of work ahead of Sproats. However as he confesses, he is "freakishly obsessed" with Scenic Cycle, and has no regrets about the work cut out for him.
"Yes it's cutthroat, but I really believe that you've just got to have a product and an offering that you strongly believe in, and that people love. I'm incredibly proud of it, and it's been 18-hour days, but I honestly wouldn't have it any other way."