When local companies rely on imported imagery to speak to "the world's best BS detectors" (i.e. Australian consumers) they risk eroding their brand loyalty and support, warn the designers behind stock photography startup Austockphoto.
Co-founded by Claire Bonnor and Kassandra Hunt, the entrepreneurial duo behind Sydney-based design agency Boheem, Austockphoto is a stock photography library consisting solely of images that accurately depict Australia.
"The Australia we present our users is one that is uniquely diverse, with much more depth than the clichéd depiction exported to the rest of the world". Bonnor told Dynamic Business. "We seek to capture every facet of our nation, from the sprawling suburbs and sophisticated cities through to the quaint country towns and the great outdoors, as well as the rich yet intertwined histories and cultures."
"People who get it"
Searches for images on Austockphoto "don't return rubbish", Bonnor explained, because the company's collection is "tightly curated".
"Only one in ten photographers who apply to join our creative community make the cut," she said. "We are looking for people who 'get' what we are doing, take exceptional shots and seek to capture what Australia means to them . Plus, each image submission goes through a multi-step selection process where different team members check to see whether it meets the criteria before it is added.
"To fuel the growth of our library, we are constantly in contact with our photographers, sending them inspiration and ideas. Additionally, we manage shoots to specifically build on particular categories we know are in high demand.
"Critically, Kass and I believe in nurturing our diverse community of, to date, nearly 200 photographers nationally. We understand that for photographers to feel valued and take this thing seriously, they need to be paid fair commissions, and so every time an exclusive image is licensed, the artist receives 50% of the sale fee – even more if it's a multi-use or unlimited-print license. So, when customers purchase images from our library, they're helping Australian photographers make a living.
"Admittedly, we don't have the millions of shots the international libraries boast (yet!), but the collection is growing all the time, and the more photographers feel supported by local businesses here in Australia, the more inspired they will feel to prioritise contributing more content."
"Hitting burn-out"
Bonnor revealed that a set of related frustrations led her and Hunt to launch their second startup together in late 2015. Firstly, it was 'next to impossible' for their design agency Boheem to source stock photography that reflected the realities of Australian life.
"As designers, we'd spent more than a decade trawling through international stock libraries looking for the sorts of authentic, true-to-life photographs of Australia our clients demanded…but to no avail," she said. "Not only were Australian photographers contributing all their imagery to offshore libraries, they were also shooting primarily for an overseas audience. Consequently, their imagery didn't truly represent the Australia we know."
The second frustration was that Hunt was "hitting burn-out" at Boheem, having had "one to many clients ask for one too many design alterations".
"Switching to an e-commerce business model was the change Kass needed," Bonnor said. "It freed her up to work from anywhere. She now lives in her hometown of Armidale, NSW, where she enjoys a slower pace and works as a freelance designer whilst also managing Austockphoto."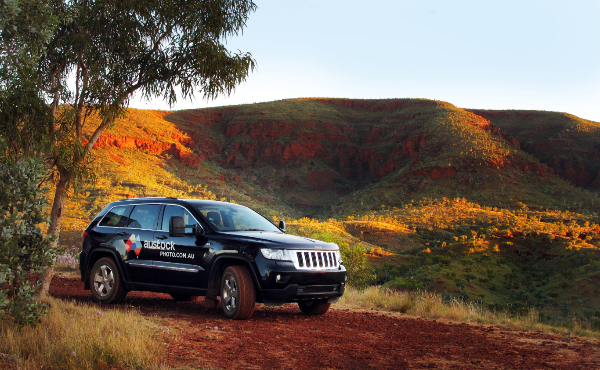 "Creepy sandmen"
Asked why the photos of Australia that dominate stock photo libraries internationally tend to induce cultural cringe, Hunt said it was because the people curating them do so with an offshore frame of reference.
"The curators don't understand what everyday life in Australia looks like," she explained. "The images they offer are generally more for tourists –you know, icons like the Sydney Opera house, silly flag-print thongs on sandy beaches, yellow kangaroo road-signs in the outback and, for some reason, snowmen made of sand.
"Now, no Australian in their right mind has ever built a snowman out of sand at the beach, slapped a Santa-hat on their creepy creation and wished everybody a Merry Christmas. So, when a search for authentic Australian imagery yields a creepy sand snowman, for an Australian… that's like being offered a Marmite sandwich and being told its Vegemite – it doesn't sit right.
"As a nation, we struggle with cultural cringe to some degree, and an overdose of Akubra hats and dinky-di stubbies leaves many of us wishing we could shed our Australian identity. This is a bit tragic, considering we are the lucky country and have plenty to be proud of."
"We're BS detectors"
Bonnor's belief is that when Australian consumers are inundated with imported imagery or imagery that's not authentically Australian, it starts to impact how they perceive themselves.
"We've become accustomed to constant exposure to imported media, entertainment and advertising," she said. "Thanks to online connectivity, the northern hemisphere has never felt so close. There's absolutely nothing wrong with that; after all, we want to be informed and relevant… but when Australian brands use obviously offshore imagery to speak to Australian audiences, this erodes consumer loyalty and support because, let's face it, we Australians are the world's best BS detectors."
"The ABC and other free-to-air services are doing a stellar job of identifying and celebrating the here-and-now Australia through television. We're seeking to do the same thing au Austockphoto with our all-Australian stock photo library – it's the perfect resource for any brand that holds similar values and wants to more accurately represent its customer base.
"Relief and delight"
Hunt said the response to Austockphoto to date has been "overwhelming positive".
"Our user base enjoyed steady growth of between 15 and 20 new users each week and we have successfully courted mega brands, who've opted in for our corporate account structure," she said. "Corporates such as St George, Westpac, Seven Network and HBO have praised the quality of our photos and our competitive offering.
"Just recently, we connected with someone from Diversity Arts Australia. She was over the moon that we pay our photographers fairly, capture the diversity of what Australia has to offer and are aware of cultural sensitivities. We've had countless representatives from Australian brands, government agencies and not-for-profits express both relief and delight that finally, there exists an image resource built especially for them."
Acknowledging the growing demand for video content, Hunt said she and Bonnor intend to add video to Austockphoto "in the near future". She added, "There are so many fantastic opportunities for Austockphoto to grow and for Australian brands to benefit, the great southern sky's the limit!