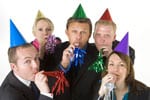 It has been an interesting first year for the newly launched Dynamic Business Online. Since relaunching in January, we have worked hard to bring you a website that is both informative and engaging.
We have continued to grow each and every day, from embracing social media, to profiling the many inspiring entrepreneurs that helped to shape the small business landscape in 2009.
We gave you unbridled access to our many expert industry bloggers (and let me tell you, some interesting debates were generated as a result) and kept you updated on the latest small business news.
We look forward to bringing you an even bigger and better site in 2010 (feedback is always welcome and very much appreciated – email feedback@backend.dynamicbsuiness.com)

To celebrate the year that was, we thought we would share with you the most popular articles/blogs/hot tips of 2009. Below are the top 10 articles that interested you, inspired you and educated you.
We hope you have a Merry Christmas and a killer New Year!
Love the DB team
1. Why businesses shouldn't bother with the 50 percent Investment Allowance

"Well the Federal Budget came out last week and most pundits labeled it as a pretty tame affair particularly with respect to businesses. I have to agree.
There was no change for large business and the only significant change for small business was the extension & increase of the Small Business Tax Break – from 30 percent to 50 percent bonus deduction to small businesses (ie turnover under $2M) for assets acquired between 13 December 2008 to 31 December 2009.
The media have been raving about how great this measure is for small business. Well I am not that excited for quite a few reasons…" (Read more…)
2. Investment Allowance trap for new car buyers
"Individual taxpayers who are employed and not in business, are being incorrectly advised by car salesmen that they will get the 30 percent investment allowance if they purchase a new car simply by applying for an ABN, says "Mr Taxman" Adrian Raftery." (Read more…)
3. $42 billion stimulus package to fight recession
"A second stimulus package, worth $42 billion, announced yesterday by the Federal Government will push the budget into deficit but will assist in the fight against recession says Prime Minister Kevin Rudd." (Read more…)
4. Apple iPhone 3.0 software updates now available

"Apple has launched the latest version of its iPhone software and Software Developer Kit (SDK), available for download from today."(Read more…)
5. Investment Allowance explained: what it means for your business

"Small businesses are being encouraged to take advantage of the Government's 30 percent Investment Allowance before the June 30 deadline. Finance Broker at Finlease, Mark O'Donoghue explains what the Investment Allowance means for small business, who is eligible and what businesses can expect to receive." (Read more…)
6. High Court stimulus decision made today



"A decision is expected to be made today in the High Court on whether 7 million Australians will be able to receive the Government's promised $900 stimulus package cash bonus." (Read more…)
7. Google Android tipped to overthrow iPhone

"Market researchers have predicted that the dominance of Apple's popular iPhone could soon be toppled by Google's Android mobile platform within three years, reports The Sydney Morning Herald." (Read more…)
8. Working with a minimum marketing budget
"So, you've got $5,000 to market your business, but how do you get the best 'bang' for your buck? Here are five marketing activities to help promote and grow your business." (Read more…)
9. Melbourne company puts safety first with new iPhone app

"A small Melbourne company has developed a new iPhone application designed to protect users from an attack anywhere in the world." (Read more…)
10. Legal tips to setting up a business

"Starting a business can bring feelings of both adrenalin and fear. There are some important legal aspects that anyone starting up a new business should consider to ensure a successful start up." (Read more…)