The nature of work is changing. Employees are demanding smarter, more collaborative environments, flexibility and digital rich workspaces. Unfortunately, many businesses get it wrong, delivering environments that frustrate, confuse and distract staff. However, there's a group of leading, highly productive Australian companies that have successfully transformed their offices into modern digital workplaces.
A new independent study by IBRS, commissioned by LogMeIn, aims to uncover the practical lessons that these businesses have in common. The 'Workplace of The Future' report invites other organisations to deeply question the reasons why they should transform and the key considerations before doing so.
IBRS interviewed organisations that have made the journey to future workplaces and created positive differences to their workforce. These companies include BVN, Commonwealth Bank of Australia, Dropbox, hipages, Medibank Private Ltd, Mirvac, Lendlease and Pacific Hydro. IBRS also interviewed designers, architects and academics. Based on this research, it extracted the key lessons for what makes the difference.
The workforce of the future
Already four generations are working together, staff needs are becoming more varied, and the current office model isn't cutting it. Rather than planning for the current work environment, leading firms recognise that the future of work – and more broadly society – will be different and are planning for that future.
According to Lindsay Brown, Vice President, Asia Pacific at LogMeIn, "this future workforce will collaborate, be proactive and share ideas efficiently. It will also be far more inclusive. Organisations are now planning new workspaces with ten-year visions, to cater for greater diversity in the workforce and more support for workers' evolving lifestyles. What's more, with automation set to impact a variety of roles, the amenities being provided are being assessed on how well they cater for new generations of workers, for on-the-job learning and for potential growth."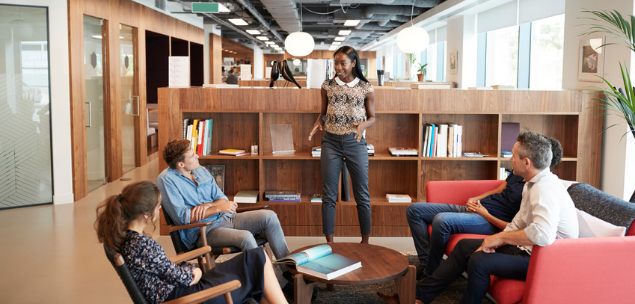 Sharing best practice
18 key lessons emerged throughout the research, the top nine of which are outlined below:
Be clear on the why
What does the organisation want to achieve culturally and as a business? Maximising office space utilisation; enhancing collaboration, boosting productivity, transformation, reinforcing purpose and values, improving customer perception, brand positioning, attracting and retaining talent and agile configuration are the key reasons why an organisation decides to rethink their spaces. Successful organisations focus on no more than two of these reasons when driving workplace transformation.
Workplace personality must match your core customer value proposition
A new office space is an opportunity to reinforce your brand and how you configure it should match and amplify your core values and culture.
Take for example hipages, the home improvement platform. Its office has a domestic front door to evoke the feeling of arriving at home and homely, collaborative spaces to encourage community. Its meeting rooms are themed to the company's customer key categories: plumbing, gardening, electrical and carpentry.
It's not just an office – it's a district
Successful organisations take advantage of the surrounding neighbourhoods and facilities to create 'extended community workspaces', the location of a new workplace is as important as its interior design, particularly as more workers host meetings over coffee in nearby cafes. However, security becomes an immediate concern once you leave the office. It's crucial to secure documents and information on any laptop or mobile device a staff member has when they are planning to work within the district or even more remotely. Password managers should be part of this consideration.
The network must be everywhere and invisible
Successful organisations ensure that everyone can access and share information seamlessly in every corner of the office space, and remotely, by providing them with the right infrastructure and meeting tools. Unified video and voice solutions have a key role to play here.
Quiet spaces are just as important as collaborative areas
A common trait of the successful workplaces is that they have several zones within an open plan workspace that support different work activities. Therefore, you need to plan for the workplace to allow for concentration, private isolated spaces, break out spaces, teamwork areas, large group collaboration spaces, etc. Simply making everything open office is a recipe for disaster.
Cater for casual meeting spaces
When collaboration spaces are placed too far away from focused work areas, collaboration breaks down. However, when collaboration spaces are placed directly with focused work areas, staff satisfaction declines sharply due to constant interruptions. Leaders in workplace design have addressed the above challenges by building informal meeting spaces where collaboration and innovative ideas can be fostered. These locations are often located in thoroughfares or near meeting points like the kitchen.
Consider hackable space
Fast-moving teams and projects require areas that are easily configured and disassembled. This level of flexibility can also present a particular challenge from a technology perspective, particularly when it comes to access to high-performance Wi-Fi, screens, cameras, speakers and microphones. These need to be available, ready to use and easy to customise into different formations, without the help of IT staff.
Let staff experience and choose
It also takes time to educate staff on how to work in that new ways in the new workplace. All of the firms studied recommend this education to start well before staff are moved into the new workspace. Having a prototype of the new office (or the key features of the new office) also allows people to experience and feel how they will be working in the future.
Transformation doesn't stop after the move 
Successful companies continued the engagement well after the move. They continued to discuss what's working and what's not and iterate. There must be a consistent and ongoing commitment to making activity-based or flexible working successful.
Lead researcher, Dr Joe Sweeney, PhD Ed, IBRS, concluded, "While the strategies adopted by these leading organisations vary depending on the nature of their businesses, values and goals, the underlying principles for achieving success remain. They all approached the transformation with an open mind and lofty ideals. They were all driven by the desire to future-proof their organisations – empowering their staff and being flexible, inclusive and diverse. At its core, these flexible working transformations require human-centric workplace design, consistent and intuitive technology, and a cultural shift towards newer ways of working and leading – now and into the future."