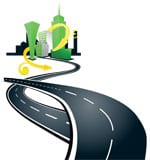 Communications infrastructure has become as critical to the 21st century as an enabler of commerce as the railways and interstate highways were in the previous century. New private data networks are keeping businesses connected in ways previously thought unimaginable.
Internet Protocol (IP) networks are now the transport routes for local, national and global commerce delivery and a platform for growth and innovation for many companies that are either split across different sites or have mobile working practices.
Private IP networks—so called because they use protocols developed for the internet to carry data—are private networks that all internal data travels on between offices and sites in the business. They are inherently more secure than internet-based networks, and because the network provider can manage the network end to end, offer much greater performance and performance management options than the internet, which is of course an "unmanaged" environment.
Three factors are driving an increased uptake in IP networks in SMEs: a reduction in costs, an ever-increasing hunger for data across businesses of all sizes, and an increase in managed private network option, which is reducing the need to have in-house IT staff run the network.
IDC's 2009 Telecommunications Survey found not just a growing trend towards managed private network services, but also strong growth in the use of applications on these networks by all businesses, with areas like video surveillance (up to 29%) and video conferencing (up to 40%) more than doubling in the past year. It is the speed and reliability of these networks that allows applications to be run more easily across the business, often boosting productivity, customer service and business efficiency in the process.
Other common applications being used include firewalls and antivirus systems to protect the business (the most popular application by far for small business according to IDC's survey at 62%), creating a shared data centre, remote working, network optimisation for faster services and the convergence of voice and data (at 42%). Private IP networks are also the foundation to deliver business grade IP telephony.
Because they can support demanding applications like voice and deliver business grade performance, businesses are looking at replacing traditional voice telephony solutions with IP-based telephony. There are potentially significant savings that can be made while enhancing the performance of their telephony solutions, and it is the availability of high quality Private IP platforms that are making this possible after the early hype and disappointment of internet-based VoIP solutions, the quality of which never lived up to necessary standards.
One business that took advantage of this is North Queensland car dealership Carmichael Ford. With his business split across four workshops in four towns, CEO Andrew Carmichael knew it was vital to get the most out of their systems and processes. Having installed a Telstra IP network to help manage the data needs of connecting diagnostic systems to modern Ford cars' onboard computers, Andrew turned to a network application—IP Telephony—to develop a further competitive advantage. Using this system not only reduced Carmichael Ford's telephony costs by almost 30 percent*, it also allowed the business to transform its customer service.
Now, when a customer calls a Carmichael Ford staff member, their mobile and desktop phone ring at the same time. If a message is left, it's emailed directly to the staff member. And if a general call to services, parts or car sales can't be answered, it is directed to the next available staff member with the customer's requested area identified.
"That's a big competitive advantage," said Carmichael. "The days of walking through a dealership, and hearing someone getting paged over the intercom, having pieces of paper and messages floating around, are gone."

Carmichael Ford found these systems meant not only were they able consolidate their administration function into one location, but when they recently bought Powerhouse Ford in Mackay the transition was in stark comparison to their expansion a decade ago.
"Making everything line up, getting our computer systems and our telephone systems to work across those different towns was a real challenge," said Carmichael.  "When we bought in Mackay, it was seamless. From my point of view, all we needed was to take one cord out and plug it into something else."
Although the direct costs for a private IP network compared to using a VPN across the internet are usually higher, the value generated can far outweigh this. The ability to reduce staff downtime by improving network performance and reliability, deploy new applications, and to integrate with wireless and extend the network out of the physical offices, can all result in a lower total cost of IT ownership and telecommunication services.
Renewable energy provider Pacific Hydro is one example of a business that found a VPN, run over the internet and satellite connections in some locations, was not meeting its needs. Pacific Hydro's IT Manager Daniel Hayward said: "The unreliable speed of normal internet connections meant that we were unable to guarantee a reliable link between the systems and staff in both offices. That can be a major issue if a deadline is approaching and we need information fast."
With almost 200 employees working across 12 Australian remote offices and three continents, various hydro electric stations, 50 wind monitoring sites and over 100 wind turbines, Pacific Hydro needed better way to connect these elements together. For its Australian operations, it acquired a combination of Telstra Next IP and Next G network services to monitor and remotely control its wind turbines and power stations as well as to provide on-site, remote and office staff with high-speed access to their intranet, files, email, internet, VoIP and HD video conferencing.
To connect to their international operations, a Global IP WAN service provides dedicated bandwidth between Melbourne and Chile. "Prior to this, a common remote site might have three or four users and one server, and was based at a location which had no existing fibre or copper services," said Hayward. "From a business perspective it meant that information being transferred between sites would be slow, and when you have people working in different areas, productivity suffers if you can't get what you need.
"Implementing the IP network service, with the Next G network services included, meant that we overcame that problem immediately, plus from the IT department's point of view it was a fraction of the cost and much simpler and neater to put in place."
As Pacific Hydro demonstrates, the shift to IP networks and network-based applications can be a much more efficient way to run IT systems, relieving businesses of the need to operate duplicate networks and maintain hardware that can require a significant ongoing investment in people, office space and power. However, just as these networks and their applications are redefining the way businesses are run, there are also significant challenges for businesses that don't use the technology correctly.
As a starting point, businesses should ask themselves a few simple questions before making the next step, as a snap decision could prove costly: How is our operating model going to change as a business? Where can you automate manual processes and reduce duplication? Where can you design processes to give a better customer, supplier or staff outcome?
Armed with the answers to these questions, businesses can start to look at the private network technology solutions to see if they will meet their needs, both now and into the future.
–Brian Harcourt is executive director of Telstra Business.