Dreamy Donuts is cashing in on the closure of 21 Krispy Kreme stores, with the franchise brand celebrating its fifth birthday by accepting Krispy Kreme vouchers at all of its stores in Australia and New Zealand.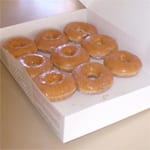 Dreamy Donuts,  the franchise brand owned and operated by the Foodco Group is celebrating its 5th Birthday this month and is taking an easy shot at rival Krispy Kreme which recently announced plans to close 21 stores after the chain ran into financial trouble.
Dreamy Donuts operated on a franchise system which has to date helped it avoid the company wide problems that have recently hit Krispy Kreme in Australia. Krispy Kreme operates in Australia under license from Krispy Kreme in the United States and is a wholly owned private company.
The Dreamy Donuts brand was established in 2005 with its first store opening in Brisbane. In 2008, it was acquired by Foodco Group's subsidiary, Cookhouse Australia Pty Ltd.
Dreamy Donuts has been a fast growing franchise operator in a relatively short time and there are now 18 stores throughout Australia and 2 stores in New Zealand.