Cafe2U, the Australian mobile coffee franchise has been awarded a bronze medal at the 2010 CSR Golden Bean Roasting Competition in the coffee chain category, the first mobile coffee chain to win the accolade.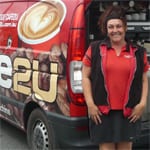 Cafe2U surprised many of its fixed premise rivals with the award, in an industry where mobile coffee operators are traditionally dismissed as inferior purveyors of coffee.
The CSR Golden Bean Roasting Competition is the largest coffee roasting competition in the southern hemisphere. Organisers were overwhelmed by the number of entries in this year's competition, eclipsing last year's 730 entries with more than 1000 coffee entries received from all over Australia and Asia.
Derek Black, Managing Director of Cafe2U was delighted with the result and commented that "Being a mobile business, Cafe2U needs to stand out in the eyes of the customer, this is why we have always been extremely passionate about the quality of our coffee blend.  This was the first time that the Cafe2U Blend has been entered into a roasting competition, so it was fantastic to receive such high recognition from industry experts."
The winners of The CSR Sugar Golden Bean received industry accolades and are all allowed to brand their own coffee retail packaging with the prestigious award logo.
Cafe2U is the largest mobile coffee franchise system in the world, with over 160 successful franchises already operating in Australia, the UK and the USA.