Now before you burn me at the stake, hear me out.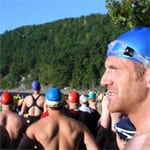 Amidst the giggles and finger pointing that followed the potential PM parading around in his budgie smugglers this past week, a point has been lost and I reckon it's a good one.
Arguably one of the busiest people in the country, under a very high level of public scrutiny and media attention, and he has chosen to make time to exercise.  Actually, that's a massive understatement.  This weekend just past, Tony Abbott finished a full ironman triathlon. That's a lazy 3.8km swim, a 180km bike ride and then, just for fun, the full 42.2km Olympic distance marathon.  My point? The man makes time to exercise.
So while a big deal has been made about Tony parading around in his Speedos to the point that many of us began to feel a tad awkward, I repeat. I want to be more like Tony Abbott.
Cue reality check.
My world, as a business owner and strategic advisor can be chaotic. No two days are the same. Sometimes work starts at 7am, sometimes it finishes at midnight. I know that lots of you are in the same boat.  For me, exercise has become a no-brainer, a non-negotiable part of my routine that is just as important for my sanity as it is for my physical health.
How did I come to this blinding revelation? Thanks for asking…
It all started just before I left Channel Seven. I was Chief of Staff, on my desk between 12 and 13 hours a day, depending.  It was stressful, high pressure and relentless work. I would eat pretty much all day long. Now listen folks, this is where the rubber hits the road.  I didn't have an issue with fluid retention. I had an issue with hot-chip retention. There I said it.
When I resigned and started the business, I found I needed energy I didn't have. I just didn't have the physical capacity to do what I needed to do. I remember so very clearly how, in the early days, during an eastern states road show, I was left almost begging for mercy.
I was just so tried keeping up with my client that I realised something had to give. That was my tipping point. From there, I got my act together, started changing my choices and 12 or so kilos later, I found a place where it wasn't a struggle to make it up a flight of stairs.
A fitter, lighter, healthier me is a much better advisor, strategist and leader. My husband reckons I'm less grumpy and he's probably right. My horse CERTAINLY thanks me…
It's not rocket science either. Move more, eat less junk.
Not saying it's easy. It's not. Last week, between car crashes, office floods and a couple of client situations I'd politely describe as "challenging" I only managed 3 workouts. Better than none, but not enough. If Condoleezza Rice can famously knock off a workout every single day, while managing the affairs of a super power, then what on earth am I complaining about?
Seriously… the fact is, I don't have a chef or a driver or a home gym, and chances are neither do you. But I do have a choice about what I put in my gob and whether I chose to go for a stroll or curl up on the couch nuzzling a bottle of wine.  Case in point. I have a client who is the COO of an international business who spends a lot of his time on a plane. He is also a husband and father. He celebrated his 50th birthday by completing a full iron man distance triathlon then backed it up 10 days later by running the New York Marathon. And I KNOW he doesn't have a chef or a driver. He does however have truckloads of discipline.  He is actually the reason I started running. He showed me that no matter how busy, you can do something every day.
Think about it like this. The building that you work from – your office, your studio, your warehouse must be fit for purpose to deliver what you need. Guess what…same thing goes for you and I.