Gift and Homewares Australia (GHA) is calling on the new Labor minority Government to do its part for small business and establish a dedicated seat for the Minister for Small Business in Cabinet.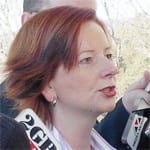 Recent legislative changes and the uncertainty surrounding Australia's new Government have left small business owners feeling hard done by, with a recent survey commissioned by the Australian Retailers Association finding small business owners believe the Government is not providing enough support to independent retailers.
Gift and Homewares Australia chief executive Alby Taylor said he agreed with the sentiments of the survey, saying more could be done to help small businesses in Australia.
"Small business is the backbone of Australia and accounts for the majority of employers in this country."
GHA represents a significant percentage of small businesses throughout the country, with almost half the organisation's membership identifying themselves as small business owners.
Taylor said it was important for the voice of small business in Australia to have a legitimate say in discussions and be in a position where they could effect change and growth within the industry.
"I want to see small business being taken more seriously in Parliament. We need a minister who will effectively represent and champion the cause of small businesses, providing them with a strong voice in all discussions."
Among the issues requiring further representation were the recent changes to the Fair Work Act and the increasing legislative and administrative hurdles required by local and state Government.
Taylor said further changes to the new Fair Work Act would be welcomed by many throughout the industry.
"I don't believe the provisions of WorkChoices were unfair or harsh," he said.
"As an association of business owners the ability to fairly hire and fire employees without being hamstrung is seen as an advantage and may even encourage further employment if there is no fear of harsh penalties."