iiNet today launched an online shopping cart, which allows small businesses to establish their own online sales presence in only a few minutes in conjunction with eCorner and their ePages platform.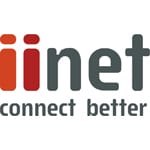 iiNet Business customers can take advantage of the eCorner e-commerce shopping cart through an easy to use application that enables small businesses to set up an e-commerce website in only a few minutes. Importantly, the site is hosted in Australia so businesses can avoid the security concerns associated with offshore payment processing.
iiNet Business General Manager, Steve Harley said with the online shopping market valued at $26.86 billion, and growing at an extraordinary rate, the new application provides small businesses with an effective  way to increase their bottom line this Christmas.
"With online retail continuing to grow in popularity, small businesses can't afford not to have an online presence. Our shopping cart allows businesses of every size to build an e-commerce enabled website in minutes, even without web development expertise," said Mr Harley.
"Unlike other solutions, iiNet shopping cart integrates with all major Australian banks making payment processing simple. It also provides an automatic calculation of shipping costs by weight and destination through integration with Australia Post.
"Add to this PayPal and EBay functionality and small businesses are ready to unlock the full potential of online shopping for their customers."
"We are excited by this new element to our small business website offering and look forward to seeing it support a number of budding online entrepreneurs in the future," Harley said.
John Debrincat, Managing Director of eCorner, said that iiNet has recognised the opportunities for SMEs who want to engage in e-Commerce in Australia online.
Through eCorner, the ePages offering has been fully localised for Australian services such as Australia Post, eWAY and TNSI payment gateways, Getprice shopping comparison and Temando shipping aggregator. As well as fully supporting international services like eBay and PayPal, ePages supports international sales and multiple languages, currencies and tax regions and is fully enabled for social media such as Facebook, Twitter, forums and blogs.
With deals ranging from $39-$149 per month, the iiNet Shopping Cart provides credible competition to overseas-based services. Importantly, as ePages is locally hosted by iiNet, it is far better positioned to give priority to local search results.
For more information visit http://www.iinet.net.au/business/shopping-cart/