The Greater Building Society is joining a large number of Australian businesses big and small in using Twitter as another way to communicate with its customers.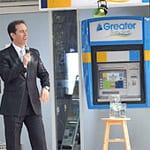 Greater Building Society is the first Australian building society to embrace Twitter as a customer service tool with head of customer service Lisa Presbury  saying that Twitter provides an opportunity for the Greater to listen to people and to meet the needs of customers on their terms.
She said that followers of @GreaterBSociety will be able to ask questions of staff, provide feedback about the Greater's products and services, as well as receive finance tips and the latest news from the Greater.
"Our Twitter followers will also be among the first to see our anticipated new Seinfeld commercials and behind the scenes footage from the making of those commercials," Ms Presbury said.
She said that the new online services were an extension to the Greater's branch network and call centre.
"The growing popularity of social networking sites shows that some people prefer to "talk" to someone online these days," she said.
"We pride ourselves on our high levels of customer service and Twitter is another way we can make doing business with the Greater as convenient as possible."
"Sites like Twitter will not be important for many of our customers but they will become increasingly utilised by people so we want to make sure we are experienced in this space."
For more information on using Twitter or social media for your small business, see our earlier article, Why business needs Facebook and Twitter and Joel Norton's blog post How to use social media as a loyalty tool.