Best friends Clair Mayhew and Hayley Norman didn't let little things like new babies or a full-time job get in the way of setting up a new skincare business this year.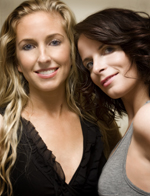 It's an already saturated market but the pair believe they have something different to offer with Minx Amour. Mayhew, 28, says: "It's a stand out brand because we offer a product that really works whilst at the same time not compromising on packaging. It is rare to find a scientifically formulated yet effective product that also doubles as a beautiful gift."
What's more, she adds: "Our products are naturally based yet scientifically formulated, to preserve youthful skin and at the same time combat skin conditions such as acne. Minx Amour products are non-irritant because of their naturally based ingredients and lack of artificial perfumes which can wreak havoc on the skin."
It's been hard work starting up a business around their everyday commitments. Norman, 27, is full-time mum to two children under two. Mayhew on the other hand, still works in financial software for her day job.
While setting up Minx Amour at the end of 2009, Mayhew juggled the birth of her son (now eight months) while working full time. Norman was juggling caring for her daughter (now two years) and giving birth to her son (now six months). "Both of us spent a lot of time doing work on the computer at midnight but we are proud of our brand and our achievements," says Mayhew, who is from the UK.
It's been a steep learning curve but they haven't let knock backs or lack of finances put them off. "One of the biggest challenges we've faced has to be the legal requirements and fees involved in starting a new business," says Mayhew. "Business owners would be well aware that it isn't as easy as just registering your business name. There are many requirements like trade-marking (which they have done), whether or not to register for GST, Partnership Agreements, Capital Gains etc to take into consideration.
"A lot of the requirements and legal jargon go way over your head in the beginning and to do things properly you need to enlist the help of professionals, which can be very costly. Just when you think there couldn't possibly be another Government requirement or fee, another one pops up. It's all worth it in the end though."
They formulated the range in conjunction with Dr Jacob Vromen, owner and founder of a research and development laboratory and manufacturing facility. Dr Vromen holds a PhD in Organic Chemistry and used to work under contract with the United Nations, setting up factories in developing countries. Dr Vromen has spent 25 years in advanced skin care and transdermal drug delivery research, development and manufacturing and was one of the original innovators of emulsion technology.
Minx Amour is currently available in a limited number of NSW salons and to buy online. Norman and Mayhew would like to see it stocked Australia-wide by the end of the year and think this is realistic.