Walk through any CBD at lunchtime and you'll pass hundreds of men in expensive – and often ill-fitting – suits.
James Wakefield, co-founder of online menswear tailor InStitchU, is trying to make it easier and cheaper for men to dress well for work.
Opened in 2010, InStitchU has grown through word of mouth, and is expanding into the UK later this year.
Dynamic Business had a chat to Wakefield about how InStitchU has grown and just how far he intends to go.
How did you come up with the idea for InStitchU?
Robin [McGowan] and I both entered the workforce and we were quickly faced with the same challenge that most guys face: you're expected to have this whole corporate wardrobe, and it's quite expensive to get at least 3 suits and 6 shirts. When you buy those things you do have to compromise on style, fit, and price. St the same time we had friends who were going over to South East Asia and coming back with high quality tailor made suits and shirts at a much cheaper price.
So we thought, through the power of the Internet, why don't we give guys the opportunity to design these beautiful garments from the comfort of their own home, and offering it at a very affordable price. It allows guys to get what they want at a great price and through our perfect fit guarantee, we ensure they're happy with the fit, so it's win-win for the customer.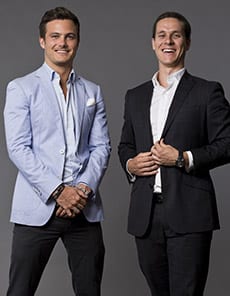 You were working in a corporate job – what convinced you it was time to leave it?
I was working at Macquarie Bank as a stockbroker, and at the same time Robin and I were building InStitchU. From a young age I really wanted to run my own business, and you know, you put in 80 hours a week working for a big company that directly benefits just that company. With a startup, every bit of time and effort, every achievement you have benefits you, and you're helping grow a business which otherwise wouldn't have existed. It's rewarding when we look at our revenue now and the team we've built here. It's quite an achievement and it's quite satisfying to think that we've created this from nothing.
Stepping away from a company like Macquarie, where I learned a lot, and comparing that to my first six months running InStitchU with Robin, the amount of things I learned would quickly surpass what I would learn in years at a big company. I got so much exposure to every aspect of a business, whether it was digital strategy like SEO and online marketing or HR, recruitment and building a team, product sourcing. You get to develop a broad skill set very quickly through running your own business, and it would have taken a lot longer to develop that knowledge and understanding at a big company.
What sorts of challenges did you face?
One challenge we were faced with initially was growing the business and trying to wear so many hats, doing customer service, sales and marketing, product development, all of that sort of stuff. We should have, in hindsight, started hiring a good team earlier in that process because at that stage, Robin and I doing everything ended up with customers not getting the attention that they deserved, so really quickly we realised we needed to hire great staff and surround ourselves with people who are better at the role than Robin and I were. As soon as we did that, the business really took on a new sort of growth path.
How did the business start growing?
For us, the key contributor to our growth has been word of mouth. We encourage every customer that gets a suit to tell their friends, and we've got a few different referral programs. It's interesting when we do meet a new customer face to face to get measured, because we ask how they heard about us and the resounding answer is that they had a friend who told them about us. We started growing from day one, and the key contributor has been word of mouth.
Though it's an online business, you do have the face-to-face aspect – what split is there between people who measure and order directly online and customers who come in to the office?
About 80 per cent of our customers do complete the measurement process themselves at home but for Sydney-based customers who work in the city, it is quite easy for them to stop by at lunchtime and check out the fabrics and get their measurements done. We do charge a measurement fee for that, but around 20 per cent of our customers like to come in for their first fitting or suit purchase. Then for their next orders they'll do it at home because they're confident in the measurements on the system.
What lies in store for InStitchU?
We are looking to move into women's wear in the future. We're testing out that part of the market at the moment, though it's still early stages at the moment. We're happy with the garments that do come back, the fit, the measurement process, and think there's a market for it in Australia then it will definitely be something we explore a bit further. In terms of other strategies, we'll actually be opening an office in the UK in mid-November, which will be doing everything our Sydney office is doing at the moment, so customers can come in and get measured and check out the fabrics, and driving online sales through those initial meetings.