Jump On It, one of the myriad Groupon clones in Australia yesterday announced it has secured nearly $5 million in funding from US online group buying company LivingSocial.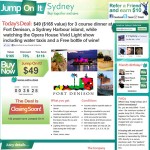 Jump On It's announcement follows news  earlier this month that rival OurDeal inked a deal with Network Ten for an unspecified investment in the company and is representative of the stage in the start-up cycle the majority of the Australian Groupon clones are in.
LivingSocial CEO Tim O'Shaughnessy says Australia has always been seen as a strong potential market for the company.
"Our decision to partner with Jump On It will help us capitalise on the presence we have already achieved there. We chose Jump On It because it has clearly the best team in the local market and the largest Facebook fan page membership in Australia. LivingSocial's vision for the local market and the way we do business are very much aligned with Jump on It."
Jump On It CEO Colin Fabig says the investment from LivingSocial will increase the reach of Jump On It almost immediately.
"Offers to invest in Jump On It were made by the leading US companies and venture funds as well as many local media companies. After meeting all interested parties, we decided to partner with LivingSocial because we have a close cultural fit with their professional management style and they had the vision to have already acquired an extensive database of Australian subscribers now ready to jump on our great deals on spas, restaurants and activities in their city."
With the new partnership, the Jump On It executive team – CEO Colin Fabig, Sales Director James Gilbert and COO Adam Rigby – will stay on and continue to grow the Jump On It brand. They will also manage the launch, operation and growth of the LivingSocial website in Australia, bringing a vibrant new offering into the local market.