For a woman who has built an empire out of hard-to-find goods, her success is easy to see.
Erica Stewart is easy going and matter-of-fact about her business journey thus-far. Until 2008, Erica was a national sales manager for a top Australian magazine. She enjoyed her work, but it was the products that came in for magazine photoshoots that awakened her creativity.
"I was always entrepreneurial. I knew that I would eventually want to start my own business. Working in magazines, I would see all these beautiful products arriving for photoshoots, but have no clue where to buy them," Erica explains.
"They were usually sourced by the stylists from out-of-the-way boutiques and small creative businesses that you couldn't find easily in high-street shops," she says
So as a hobby and creative outlet, Erica decided to collate these products into one spot. Enter the creation of online marketplace, Hard to Find.
"The idea was to bring the pages of the magazine to life," she says.
Erica also knew that she didn't want to run the type of business that needed to house warehouses of stock. Running an online marketplace was the perfect medium and meant she could still work with the products she loved.
"In one sense we're like a big department store, and in another we're a technology platform that supports creative enterprise.
"The idea was to create a platform for all these small creative businesses to promote their products to a wider audience than they could otherwise hope to reach on their own," she explains.
"It meant as well that I could have an infinite number of small creative businesses and products on the site, and make it a real go-to destination for people seeking genuinely different products and really gorgeous, unique gift ideas, homewares, fashion, and accessories."
Now in its eighth year, Hard to Find has come a long way since it launched. Erica says that it has been important to celebrate successes, no matter how small, along they way.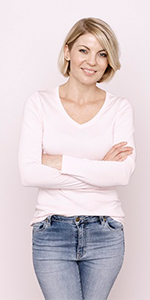 "Moving from the kids playroom into a share office felt like a milestone – small as it is now, it felt big then. Bringing on the first employee, and being able to pay myself a salary was a big one. I had worked for a number of years without one! I just pinch myself. I've got a multi-million dollar business, I've not had to take on any outside investment, and I'm a Mum of 3 kids. So I think there's a lot to celebrate in what I've achieved so far," Erica says.
Like any small business, no entrepreneur is an island. Erica is emphatic that the single biggest lesson she's learned, and the most important part of her business, is having a solid foundation of the best people around her.
"Getting the right people can really make or break a business. And I've learnt that the hard way.
"Having the right people in the job means they can take ownership of that particular area of expertise. It means that I've got people doing those jobs as well as, if not better than me. And it means I don't have to worry about being in charge of absolutely everything – which is ultimately a risk to the business," she says.
"You want to have a business that can operate without you – and we're at the stage now where that can happen."