Peter Carter was appointed managing partner of Carter Capner Law in 1995 and has spent the past 15 years cementing the firm's position as one of Queensland's leading legal practices.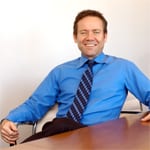 As the driving force behind Carter Capner Law, Peter takes a hands-on approach to client care, calling on his practical understanding of the legal and commercial needs of businesses to achieve the best possible results for his clients.
Peter studied law at the University of Queensland, where he received the degrees of BA, LLB and BCL.  As well as being an accredited specialist in personal injury law, his specialties include property law, commercial contracts, aviation law and litigation.
Peter is a solicitor of both the Supreme Court of Queensland and High Court of Australia, and has completed successful stints as national and Queensland president of the Australian Lawyers' Alliance (ALA).  Peter is also a director of the Civil Justice Foundation of Australia.
An active member of the international legal community, Peter is involved in the American Association for Justice (formerly the Association of Trial Lawyers of America) headquartered in Washington D.C.  In 2000 Peter  was elected as one of two Australian governors on the then ATLA board.  He was elected again in 2008 to serve on the AAJ Board of Governors and is also a member of its International Relations Committee.
Other career highlights include a period of service on the Queensland Law Society's Specialist Accreditation Board and a stint as National Councilor and Queensland Chair of the Aviation Law Association of Australia and New Zealand.
Peter is also a member of the Lawyer-Pilot Bar Association and is regularly called upon to share his views on the industry, contributing to legal journals and speaking at conferences throughout Australia.