From leotards to spin shorts, fluoro colours to classic black, over-size aerobic classes to one-on-one personal training – Lorna Jane Clarkson has seen it all. Now, twenty years after launching her own activewear label, Lorna Jane Clarkson has become a household name synonymous with active living.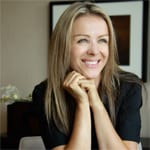 It is Lorna's innovative spirit that is the driving force behind her role as founder and lead designer of her multi-million dollar fitness-inspired clothing label and namesake brand, Lorna Jane – which now boasts more than 70 stores throughout Australia and overseas, with a further 17 stores planned for 2010 alone.
Lorna began making gym clothes while working full-time as a dental therapist. Frustrated with the limited range of fashionable exercise clothing available on the market she quickly substituted her hygiene mask for a needle and thread, moving to Brisbane to experiment with her designs.
Working as an aerobics instructor and sharing her fashionable yet functional clothing range with people in her classes, Lorna quickly realised she had stumbled on a niche market as people started to notice her designs and demand grew rapidly.
Before long, Lorna had quit her day-job and moved from her small backroom studio to a large warehouse in order to meet the demand. With husband Bill Clarkson by her side, Lorna's next step was to launch the label's first retail store – which they did, in the heart of Brisbane's CBD in 1990.
Since then, the fitness inspired brand has grown to include gym and sportswear, yoga and lifestyle clothing, intimates, accessories and footwear.
Today, Lorna Jane represents more that activewear. As an advocate for women's health and wellbeing, Lorna Jane Clarkson has developed a brand which inspires the women of Australia to Live Active.
Demonstrating that she lives and breathes these brand values, Lorna Jane herself has a demanding role as the company's creative director- a role that sees her designing entire collections, liaising with global suppliers and overseeing the company's operations.
Highlights of Clarkson's career include opening her own first retail store, winning numerous RAQ Fashion Design awards, showcasing her collections at Mercedes-Benz Fashion Festival and the opening of the group's 70th Lorna Jane store in 2010.
2010 also marks another milestone in the Lorna Jane journey as the company celebrates 20 years in business. With international expansion already underway, Lorna Jane's 20th year will see the organisation continue its impressive growth and further secure its enviable position as industry leader in the fitness category.
With Ms Clarkson at the helm of the business and her zest for life, infectious energy and determined spirit packed firmly in her workout bag, there is no doubt Lorna Jane will become an international success story – although Australia will always be her home.