Retaining key employees can be a struggle, particularly when they are talented and experienced. Research from the Australian Human Resources Institute Pulse Survey on Turnover and Retention reported that in 2016 employee turnover was as high as 16%, which had increased by 3% from 2012. With the rise of social media and professional networking sites such as LinkedIn, keeping employees has become harder than ever.
So, what can you do to keep your brightest stars within the company? Start by having a partner program. In my personal experience, I have found that bringing my top performing employees into my business as partners has been a complete game changer for the entire company. I believe this strategy is transferable regardless of industry and will enable other business owners to retain those who are a culture fit and genuinely care about and share in the success of their business.
The reason I created a partnership platform was to keep my top performers goal-focused, advancing professionally, and hungry to stay within my business for the long term  – and, it's been a great success! Here are my five top tips on how to establish a partner program within your organisation.
Identify the potential
A partner program is about offering the right landscape for high performers who want to become leaders and enabling them to grow professionally. It's important to nurture our rising stars and give them achievable goals to strive towards. But, becoming partner is not for everyone. Careful consideration should be exercised when figuring out who your key players are and who is right for advancement. Future partners need to work cohesively within the team, and have a strong skill-set to increase growth and productivity within the entire organisation. Look for candidates with vision, motivation and leadership qualities.
At Biggin & Scott-Knox, our ambitious Managing Director, Danelle Hunter, came on board as the Office Manager at Wantirna. After quickly identifying her untapped potential and natural business and leadership acumen, I realised we couldn't risk losing her to the competition, and I offered her a business partnership within just 12 months. I believe that it's never too soon for the right person.
Provide the platform
It's natural to be reluctant about giving up shareholding, but the mutual benefits of a partnership program far outweigh the negatives. You won't lose all your top performers simply because you aren't able to offer them career advancement.
Also, most people, while very interested in owning their own business, don't have the financial backing to start their own business or purchase shareholding in a company initially. By installing a program that supports employee entry into becoming a business partner you provide a great opportunity for staff and a greater incentive for them to stick around.
Make the opportunities known
Have your program for progression and success outlined within the business so that people who aspire to be leaders know there is opportunity available and what is required of them to achieve success. Make sure they know the qualities you are looking for in a partner so they can work on those aspects of their professional development.
When we induct new employees into the business, I'm very clear about the Partner Program within Biggin & Scott Knox and what is involved in achieving partnership status. Not everyone you employ will be partnership material but for those who are, it will become clear very quickly.
Be transparent
Once you've identified who your leaders are inside your business, be transparent about your business goals and expectations so they can take ownership in them and do what it takes to make it happen. Employees need to be aware of the short term plans and the long term vision.
Emily Grainger started out as our Branch Manager at Rowville. It was immediately obvious that Emily had the desire to progress within the industry, and not wanting to limit her or see her leave, we kept Emily up-to-speed with our vision and goals and gave her the know-how to rise through the ranks. Never one to skip a beat, she made the transition to partner in just two years.
Make sure you align
Align with people you deem to be loyal. Intuitively, you should know who will not be there when the going gets tough. Make sure you always choose someone you can 'go to war' with, someone who will see the future of the business in the same light that you do and who is willing to go above and beyond the call of duty to meet the vision of your company.
Drawing up an appropriate growth strategy can future-proof the success of your employees and of your business, and see you retaining your valuable talent. My final advice would be to not let good people exit the business because there isn't room at the top!
---
About the author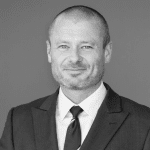 Adam Flynn is the CEO and Director of Biggin & Scott Knox, a Sales Agent, Auctioneer and Property Investor. Adam is recognised as one of Melbourne's most successful Agents, having grown his franchise from one office to four in just 5 years after developing the $1M Agent System, a methodology designed to take an Agent with limited experience to writing approximately $1M within 12 months.