MyCareer has launched a LinedIn app that allows MyCareer users to scrape their existing LinkedIn profile data and match it to potential job opportunities on MyCareer.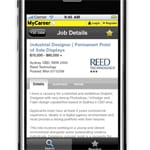 MyCareer users can now import their existing LinkedIn profile data through the MyCareer app, to allow MyCareer to automatically search for and recommend jobs and courses from the Education Centre that match their employment history, location and skills.
"The new application will allow jobseekers to further personalise the job hunting process and find jobs that suit their skills and experience, without even having to search," said General Manager, Key Categories – Fairfax Media Sydney, John Brand.
"Recruiters and employers can use the application to narrow their search, learn more about their candidates and increase the likelihood of finding the right person for the job," said Brand.
On application, users can elect to import their LinkedIn data using the application programming interface (APIs) and opt to apply for jobs using their LinkedIn profile as an alternative, or supplement their resume.
The social networking integration also allows users to easily share job advertisements with people in their social networks through LinkedIn Share, Facebook Recommend and re-tweet on search results and job details pages.
Small businesses seeking to fill job roles may wish to consider adding MyCareer to their online job advertisement mix if seeking to reach users of LinkedIn.