With the ever growing rate of electricity prices, it makes sense for business owners to take a good hard look at their energy costs. Chances are you're losing out on money. When you're operating a business, it can be common to 'forget' about the cost of energy and efficiency. Energy costs are rarely put into the business budget and most of the different affecting factors aren't even considered. So, business owners lose money.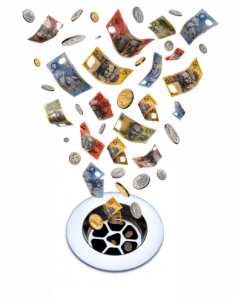 The ability to 'track' business energy costs can mean different things for different people. Whilst some business owners will ensure the lights are switched off come close time and computers are shut down, others are still feeling the grunt of the financial pressure so opting for a bigger and more efficient way of tracking everything.
Before you decide what energy tracking solution will work best with your business needs though, it's important to assess the needs of your business, employees and customers. When it comes to providing quality and standard energy to meet these needs, you'll be able to implement and plan of attack that will help cut costs where you need to the most.
Dealing with Excruciating Utility Costs
Electricity, water and gas can all be costly utilities your business is chewing through – especially if you're operating a business with long days. When you're paying bill-to-bill and not actually reviewing the costs or daily energy consumptions, it's very surprising how all those little things add up. Next thing you know you're left with a whopping utility bill – these costs really do impact the bottom line of your business.
Budgeting for utility costs is hard because utilities tend to be a hidden cost. And it certainly doesn't help with they are constantly on the rise. Conducting an energy audit is the best place to start to see exactly where you're using the most of your energy. This provides a perfect opportunity to shine light on inefficient processes and how your money is being wasted by those inefficiencies. An energy audit will also offer recommendations on what areas you can make improvements in to help cut down on costs, making those dreaded utility bills a lot easier to deal with come payment time. Check with your local electricity provider about how you can do a business energy audit.
Energy Saving Tips Every Business Owner Needs
There's every day energy saving tips that every business should be implementing to ensure a better outcome in the long run. Combined with an effective energy monitoring system, small daily changes can help you to manage your business energy consumption.
Switching lights over to LED lighting can be much more efficient and help to cut costs; or opt for lighting controls like dimmers, timers and motion sensors. Establishing energy practices within your company will help your employees be on board with changes. Encourage staff to turn off lights and computers at the end of the working day to help trim down costs and conserve energy. Keep heating and cooling systems at a regular temperature and ensure all equipment is well-maintained with energy star ratings for the best efficiency.
Solution: Energy Monitoring Systems
Despite those dreaded utility bills and high energy costs, there is an effective solution to cutting down business energy consumption. Energy monitoring systems provide you with an opportunity to do just that. By 'monitoring' and managing your energy use, you'll have a systematic approach to energy efficiency. EMS combines with best practices of energy monitoring and energy awareness to effectively boost the overall energy performance.
This ensures you can track and monitor your energy usage within your business from anywhere; enabling you to schedule, control and monitor all your energy loads at once. Through a wireless system, EMS can be scaled to your specific business needs to monitor multiple locations suitable for the short, medium and long term – all in real time.
4 Reasons Why Energy Monitoring Systems are a Businesses' Dream
Energy monitoring systems won't just reduce costs and energy consumption, there's other great incentives in it from a business perspective too.
1. Business Costs and Risks Will Be Significantly Reduced
As energy costs rise, finding ways to reduce costs is now a priority. EMS can be effective in cutting down both costs and risks. If your business is consuming a huge amount of energy, the greater the risk if for price increases or supply shortages. This can affect business profitability. EMS will reduce your risk by reducing your demand for energy and make price increases and shortages more predictable.
2. Your Business Will Get the Green Tick of Approval
Another great incentive of EMS is to promote your energy saving credentials. Your business will show the green tick of approval and this can be a huge selling point for potential prospects. Do your bit to reduce the demand for energy and show your energy saving credentials on your website and in your office or meeting room. Showcasing your business as green conscious can often be good for the bottom line too.
3. You'll Be Promoting a Much Healthier Environment
The more businesses that take advantage of EMS, the less damage there is on the environment. That's because a higher energy consumption comes with a high percentage of carbon emission. If your business is wanting to reduce its carbon footprint, then EMS is definitely a great solution.
4. Better Control Over Your Business Energy Usage
By effectively monitoring your energy consumption and collecting all relevant date you have better control over your business energy usage. This will help to significantly reduce costs, protect the environment and give you access to the valuable information you wouldn't have otherwise had access too.
---
About the Author:
This article is written by Jayde Ferguson with assistance from Aidan Jenkins, Managing Director of Infinite Energy – business electricity and solar power provider to Perth and South West WA.